SEARCH:
SEARCH:
Will sets out to help Takoda and his tribe preserve some of their identity... and ends up finding his own. More...
People confound young, brilliant, college professor Brendon, including his boss. So when Josh, the assistant football coach, pursues him, Brendon isn't sure what to make of him. More...
The Chosen by Annette Gisby
The Chosen by Annette Gisby
Lyrical Press
Ebook availble for Kindle, iPad, PC, Mac and more.
Genres: Romance, Fantasy, Yaoi
Love or duty, which would you choose?
Prince Severin has been brought up to put duty before all else. Now, his duty is to marry and produce an heir. He has his choice of princesses. Unfortunately, his passion is for princes.
Havyn has been a slave all his life. When his powers are discovered, he finds himself purchased and freed by Prince Severin and apprenticed to the royal wizard, Ildar. His duty is to stay chaste to keep his powers strong. Unfortunately, his passion is for Severin.
With kingdoms at war, the throne hanging in the balance, and magic in the air, can the two men find happiness together, or is duty more important than love?
Out now from Lyrical Press
Reviews:
"This was an epic high fantasy, complete with princes, kings, damsel princesses in distress, betrayal, and the ever-present quest. We start with Severin's purchasing and then freeing Havyn, who then becomes apprentice to the royal wizard ... and Severin's object of first lust, then love. I did enjoy the way this relationship built. The quest to find the princess gives Severin and Havyn time to learn about each other and develop a strong bond." - Patchcat for Yougottaread reviews
"All of her dialogue was natural and easy to read and understand. Her character description was perfect... This is the first novel I've read from Annette Gisby and I'm thrilled that she asked us to review this for her. I was not sorry for a moment and I'd do it again in a heartbeat... If you're looking for a sweet love story? You found it! I recommend this book and award it 5 kisses!!" - Michele, from Michele & Jeff Reviews
Read more about Annette Gisby and her books at her website http://www.annettegisby.n3.net
***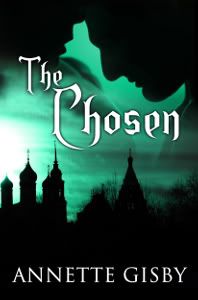 The Chosen is also now available in print direct from Lulu.com