SEARCH:
SEARCH:
Will sets out to help Takoda and his tribe preserve some of their identity... and ends up finding his own. More...
People confound young, brilliant, college professor Brendon, including his boss. So when Josh, the assistant football coach, pursues him, Brendon isn't sure what to make of him. More...
Mel Keegan NARC

It all began with DEATH'S HEAD, originally published in 1991, in abridged form by GMP in the UK. A year later came EQUINOX, the second of the Jarrat and Stone books ... and then a ten-year lull while GMP, as a business, wound down and merged itself into the much larger Millivres-Prowler Group.

Not until Mel Keegan entered into the current creative partnership with DreamCraft Multimedia did the NARC books stir back to life, and they took off in 2004/05 the way they should have fifteen long years ago!

The third novel, SCORPIO, was published in September 2004, and Mel has dusted off old notebooks: the story outlines for NARC books which were planned and of necessity shelved, so long ago.

Next came STOPOVER, which we whimsically called 'NARC #3.5," since it's a slim volume which falls between SCORPIO and APHELION. It's the same length as most of the SF novels of the 1960s — about 44,000 words ... and MK had actually intended it to be the prologue to APHELION.

Halfway through the writing, we all realized Keegan had 'done it again,' and the novel was going to run way too long. We cut STOPOVER out of APHELION and released it as a stand-alone early in 2007, while APHELION followed along later.

The NARC books became not merely a possibility, but a reality, with the DreamCraft reissue of EQUINOX, and a year later, the restoration of DEATH'S HEAD. The project was an immense task, but the book was shipped in March '04, and reception from readers has been overwhelming. Advance orders were several times more than we had expected, and the reader response has been better than we could have hoped for (and we'd already had high hopes to begin with).

Early in 2008, DreamCraft switched over to printing and binding in the USA/Can and UK/Eur, using the services of the POD 'giant,' Lulu.com.

To celebrate the move, we struck an entirely new set of covers. Scroll down to see them on this page, and click on each image to see the whole wraparound covers, at much larger size. (Images are compressed and not too large. Dial-up users may need to be a little patient — but we guarantee it'll be worth the wait!

Mel Keegan's readers frequently disagree on what might be their favorite book or genre, but on one issue they're solidly in agreement: gay-themed science fiction doesn't get any better than this! (Having said that, however, we can hear a wail going up in the background, from the folks who actually prefer the historicals. In fact, 25% of readers do prefer (gay) historical fiction, and something like 10% read mostly only contemporary fiction. Guys — name your poison, as the saying goes: the odds are excellent, you'll find it in these pages.)
The covers for the 2008 reissue of the whole series: click through to the books' own pages...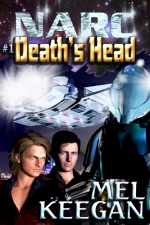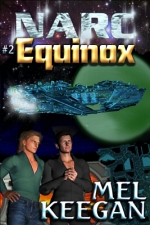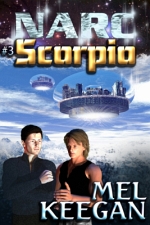 All sample readings are in a PDF format which suits desktops, laptops and palmtops, both Windows PC and Mac, plus ILiad, Palm, Pocket PC and so on. If you need to download Adobe Acrobat, get it now and install it, before trying to open the documents. Click on the icon above to visit Adobe.com. (From our eBooks store, you can also download Microsoft Reader books, suited to the Pocket PC.)



READER ALERT / CAVEAT: the sample readings offered here encompass about the first 10% of these works, and they're uncensored, unabridged. If you're disturbed by candid descriptions of same-gender romance, or by realistic violence, please don't download! These readings are not intended for younger readers. By clicking to open the documents, you agree that you are of age in your local jurisdiction; you know what you are about to read; and the material won't disturb ... 'nuff said.

NARC #1: DEATH'S HEAD UNABRIDGED


NARC #2: EQUINOX


NARC #3: SCORPIO


NARC #3.5: STOPOVER


NARC #4: APHELION





When you have to keep turning pages,go here to download the eBooks, or order up your set of the paperbacks!