SEARCH:
SEARCH:
Will sets out to help Takoda and his tribe preserve some of their identity... and ends up finding his own. More...
People confound young, brilliant, college professor Brendon, including his boss. So when Josh, the assistant football coach, pursues him, Brendon isn't sure what to make of him. More...
Home by Dawn Kimberly Johnson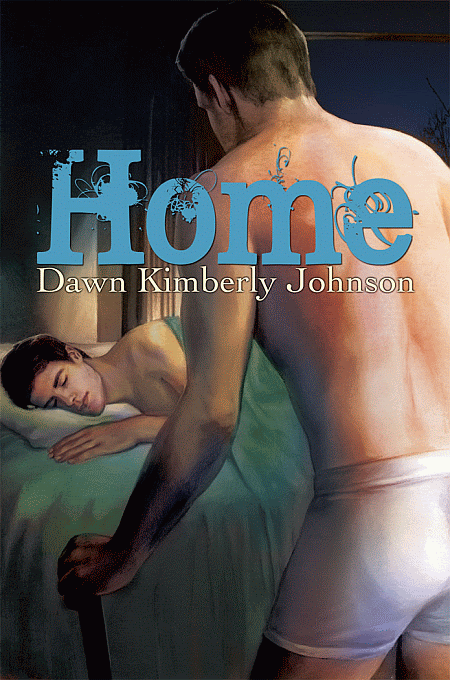 Summary: Eli Burke and Alec Sumner are finding out that falling in love isn't the happily-ever-after they expected. Their efforts to move forward as a couple and put their broken pasts behind them are made all the more difficult by new fears and old secrets. There are other stressors too: disagreeing over where to live, dealing with other men intruding into their relationship, and deciding if they must abandon the families of their pasts to build one for the future. It may hurt, but being honest about what they fear, what they've done, and what they want may be the only way to forge a happy home.
Find excerpt here.
Reviews:

4.5 out of 5 stars from Jenre, Reviews by Jessewave: Like Broken, one of the strengths of this book is in the secondary characters who form a tight friendship with Alec and Eli. Their stories are just as important as the main characters, and I thought the way that the secondary characters, including Alec's family, directly impact on the lives of Alec and Eli very realistically done.
4 cherries from Cactus at Long and Short Reviews (formerly Whipped Cream): As a sequel, Home succeeds in offering a deeper glimpse into an established relationship. Not all problems are solved once the "I love you"s are exchanged and this story shows that very nicely. The writing is good and the emotional connection between the men makes for a satisfying romance.
Available at Dreamspinner Press, Amazon, and Barnes & Noble.
Return to Dawn Kimberly Johnson