SEARCH:
SEARCH:
Did you ever think that the religious right was wrong about the gay community? Well, they are.
Find out why.
More...
Thou shall not kill. Archangel Razi-el will have to make a choice between life and death if he is to save Uri-el again
.
More...
A novel about finding a purpose and path in life, Walking the Camino Sagrado traces the arduous journey of two gay men in search of faith, trust and committed love. More...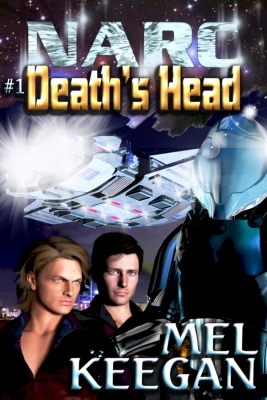 The cult classic is back -- now for your Kindle. The Jarrat and Stone epic began right here: "A powerful futuristic thriller" - Capital Gay.
More...
Harry Sussman is a nice guy, early 30s, a successful architect in Massachusetts. He's intelligent. He's stable. He's reasonably good-looking, He just wants to meet a nice guy to marry. Now how hard can that be?
More...
Lust, passion, betrayal, and revenge. Cole and Jesse find themselves at the center of it all in Boystwown. Join them in Boystown. More...
In a world where sexuality is often an excuse to hate instead of love, despite family disapproval, two men find the courage to try again.
More...
Can an alien find love with a human being?
More...
Deception, struggle, blood -- and a prize worth dying for. Jim Fairley longed for adventure, but be careful what you wish for! If you loved Fortunes of War, Deceivers, Dangerous Moonlight, don't miss this one. More...
---
Free-Gay-Ebooks-Posting-Guidelines
Invitation to members to post here ... here's a wonderful promotional opportunity. This is permanent page, but you can change out the titles that appear here as often as you like, so that a free ebook which is available "now" can be deleted later and replaced with another title, at your whim. And we'll be promoting the heck out of this page with links pointing directly here from an on-going Project Wonderful banner campaign. The object is to get your name in front of new readers every day, and then to give away a top-notch sample, which impresses the heck out of them, so that they become your paying customers. It's a strategy that works ... and when the word "free" appears on a banner, visitors head in this direction by droves. Links to your own wiki pages appear right here, so visitor (all of whom are your potential customers) are only ever one click away from your page!
Post your cover/blurb/link for complete, finished ebooks which are being made available gratis, as promo materials. Feel free to post your GLBT works; we ask only that you adhere to the format below. Not a member? Register to begin. It's FREE (there's that word again), and the Bookshelf is a lot of fun.
Thanks to members for participating ... and particular thanks to author-member Eden Winters for inspiring this project!
Here are your guidelines...
List titles alphabetically only, not at top or bottom of this growing list;
list story title and your byline ... link your byline to your wiki homepage;
list only complete, finished free ebooks, not excerpts -- outtakes belong on AGR;
do not put in outbound links to websites, blogs etc. -- link only to your wiki pages;
do not paste the story itself to this page;
do not post work which is not your intellectual property;
do not post fan fiction -- this page is for pros and aspiring pros only;
maximum of 50K and 150x98 pixels for your cover image;
maximum of 100 words in your blurb text -- need more? Make a wiki page and link to it;
on this page, link only to ebook files such as PDF, TXT, DOC, ZIP, RAR and so forth;
always quote the file format and download size;
always state, clearly and unambiguously, your ownership of copyright;
no shopping cart links on this page -- free reads only;
always give a "heat" rating and content warning;
do not post advertising banners here -- this is not a free advertising page;
Want to use outbound links? Put 'em on your wiki page and link to that page from here;
Want to post a huge blurb & big cover? Make a wiki page and link to it from here;

Thanks!
This page "went public" when we had 10 books on the list, and we're starting the banner campaign at once, with a major promotion involving loads of off-wiki advertising. Your free reads, pasted here, will be seen by floods of new visitors. Almost everyone is eager for a free read ... and if you place a comprehensive collection of flyers for your other works in the back of the ebook, it's a fantastic advertising opportunity. Readers who stumbled upon you here will soon be looking at your list with a view to buying.
The perfect books to list here are those which were once published and have now "gone dead" -- meaning they don't earn royalties any longer. (Or in the case of new writers, works which have been extensively edited and vetted by your support crew, beta readers, and of which you're sure of the quality. Remember that this is a showcase for our work, where we get to perform for a captive audience. Show 'em only our best stuff!)
Below is the correct format for page listings -- thanks for adhering to this.
---
CRIMES OF PASSION by Mel Keegan
Brad used to be on the pro bike racing circuit; Frank came out to the West Coast to work in the California's music industry. They met at a bike meeting, shortly before the crash that ended Brad's racing aspirations ... and Frank has some skeletons in the closet which are about to come rattling out and refusing to be stuffed back in! Delicious situation comedy.
10,500 words. Format: PDF. Heat level: 1. Download : 400k. Click here to download.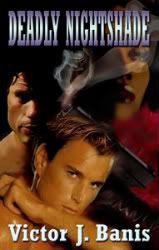 DEADLY NIGHTSHADE by Victor J. Banis Take one straight cop, one gay cop, and a beautiful drag queen they nickname The Deadly Nightshade, mix them all together and things are quickly sizzling. SFPD homicide detectives Tom Danzel and Stanley Korsky tour the city within the city - the underground world of the cross dresser and the gay clubs, hot in pursuit of a sexy serial killer who starts out blowing her johns and ends up blowing them away.
Length: 212pp. Format: PDF. Heat level: 2. Download: 3Mb. Click here to download.
...and so on. You see the pattern. Simply stick to this, and we're in good shape. As the page grows, Admin will split it into several pages with about 8 - 12 titles on each page, and a "quick-jump" index of pages.
Thanks to members for participating ... and particular thanks to author-member Eden Winters for inspiring this project!