SEARCH:
SEARCH:
Will sets out to help Takoda and his tribe preserve some of their identity... and ends up finding his own. More...
People confound young, brilliant, college professor Brendon, including his boss. So when Josh, the assistant football coach, pursues him, Brendon isn't sure what to make of him. More...
Coming out in Coopers Crossing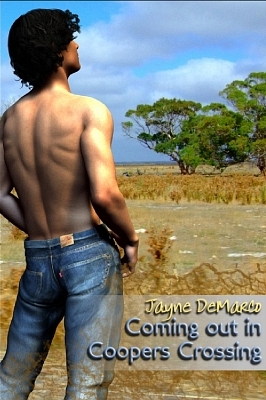 COMING OUT IN COOPER'S CROSSING
Jayne DeMarco
It's the late 1960s, and life on the land is rough. The last, faint echoes can still be heard of the days of gun-shearers and the drovers who took thousands of head of cattle or sheep across trails that had barely been broken, between half-charted waterholes. The names of the great bushrangers are still oddly near at hand -- it's Australia, a big country, a "real man's" country, where towns can be a hundred miles apart and young couples go courting over the shortwave.

Coopers Crossing is a crossroads where the north-south road and the east-west road intersect. Far to the east are mythical lands like Sydney and Melbourne, beyond the old bushranger country. Not quite so far to the west is Adelaide, "the big smoke," where kids go to school if they want to escape the rural life for a future in the city. Around Coopers it's mostly sheep-grazing country, a checkerboard of massive properties -- the sheep stations. The only way to bring freight in or out is by road, by truck, and the big diesel semis make the runs in to the rural areas, a dozen of them in a day, a hundred in a week.

One of them is a big red long-nosed Mack called 'Stand and Deliver,' and young Sam Thomas is watching out for that truck, because his mate Joey Munro, who just left Coopers to go to school in the city, tells him there's another gay lad on that truck ... someone called Steve.

At sixteen, Sam has rarely been off the Thomas property. He's dying to meet lads himself -- gay, young, hungry. He grew up on the whispered tales of the boy called Will Fairchild, who followed gorgeous Ben Garvey east out of Coopers Crossing into bushranger country, a century before. And he he watches out for 'Stand and Deliver' ... but nothing could prepare him for the reality of Steve Ryan.

And nothing short of a cross between Crocodile Dundee and Brokeback Mountain will prepare you for Coming Out in Cooper's Crossing. Told in Sam's own very Australian words, the story is as hilarious as it's heartwarming. Mel Keegan has described it in these terms: "As triumphant as Brokeback Mountain was tragic, and every word rings true to one who was here at the time. From the first sentence to the last, it has the sound of an epic Paul Hogan monologue ... if Hoges had ever told gay stories, though he never did. Bravo to Jayne Demarco. Five stars."

To assist the tender reader, a glossary of terms is given at the end of the ebook. You'll have endless fun translating language which isn't quite English, and which is as full of piquant diversity as a trip to Paris -- albeit without the champagne and shopping! So polish up your funny-bone and get ready for laugh a minute romance waaaay in the back of beyond!

ISBN: pending
Length: 13,500 words
Format: PDF to suit virtually any device
Kindle (coming in the next week)
Heat rating: 2
Cover by Jade
Price: $2.99 for the PDF, $2.99 for the Kindle.
Visit Jayne DeMarco's wiki authorpage | Jayne's website
Buy now:
Kindle:
Read Mel Keegan's 5-star review!!
Read Cryselles Craziness's 4-star review!
Read an excerpt:
Just under three million miles from the last place on Earth you'd expect to find human beings stands the town ― and I use that term loosely ― of Coopers Crossing. On the high side it's all hills and crags and sheep, and on the other side the land flattens out and it's all wheat, like something right out of Superman, except the closest we ever had to Clark Kent in our neck of the woods was Big Bill McPherson , who wasn't called 'Big' on account of the width of his shoulders, if you take my meaning.

It's marked on the map as a town, but Coopers is more of a region than a town, which means you could drive through it at rush hour and hardly know it was there. There was always a pub across the road from the old church that burned down in 1928, but the real heart of this thriving community is the roadhouse.

Bob and Dolly Carmody opened it in 1952, when the big semis started going through between Melbourne and the rural areas in one direction and Adelaide and the rural areas in the other. It was, and still is, the only place to get a sit-down dinner, use a proper dunny, get a few gallon of diesel, and buy a Coke and a meat pie for the road, before you head west into the kind of country that looks romantic on postcards.

Maybe it is romantic, if you're skiving off from your office for a few days, and you're the kind of holiday nong who enjoys eating dust for brekkie, but actually growing up in Coopers gave you a whole 'nother perspective. And if you happened to grow up gay, your perspective was inclined to be a mile and a half different from anybody else's.

Not that I was the first gay who ever grew up in Coopers ― and I love telling this story, so you'll forgive me if I tell it again before getting on with my own. In fact, it's part of my own. The first gay lad from Coopers was Will Fairchild. Even the name is magic. He was born there in the goldrush days, and by the time he was sixteen he knew he was different. Or if he didn't know by then, he worked it out pretty quick when he fell for the bushranger, Ben Garvey. Will was born on the old Booleroo Station, out in sheepshagger country, maybe thirty miles north of Coopers, where the land gets craggy and the iron barks come in thick.

People used to come into Coopers from every direction on account of the church, which went up when the gold started coming out of the ground, and the local population swelled overnight to a crowd you couldn't stuff into the MCG. The Reverend James Kellogg did all the hatches, matches and dispatches, and every Friday night they shoved the pews out of the way, and the fiddler came in, and there was dance. Boys met their future wives there, girls got knocked up in the shed out back, and according to my mum the tradition didn't change till the church burned down. I think she was conceived in the shed behind that church, and I know Will Fairchild was, which makes for a kind of continuity of the generations, from Will to mum to me.

There's nothing out at Booleroo now but the foundations of a house the size of a chookiepen, but when Will was growing up gay there it was a nice little homestead. Mr. and Mrs. Fairchild, fourteen kids, of whom nine survived, six horses, two milk cows, and about a thousand sheep on ten thousand acres of scrub. Most of the Fairchild boys grew up to be drovers and shearers, but not Will.

One day a young man came through Coopers, headed east along the track that would take him on into Victoria. This was before the road went through and long before Bob and Dolly opened the roadhouse, but the church and the pub had stood there forever, at the place where two tracks bisected, one headed north into the scrub, the other headed west toward the river and east into bushranger country. The pub was built before the church ― your priorities have to be right. It was a drovers' layover, built by a bloke by the name of John Cooper, who ran a still in the stable, making potsheen, until it blew up and took him with it in 1887. Every kid from Coopers knows this for a fact, because of the big brass plaque on the wall at Bob and Dolly's roadhouse, which was built on the same site.

So one day a handsome stranger comes riding through Coopers, headed east and thirsty for a pint or three to wash the dust out of his crop. By this time Will was sixteen, and not being a sheepshagger by nature, he'd organized himself a job with old John, working around the pub. In walks Ben Garvey ― and picture this, if you will. He's twenty-four and six-foot-three, with sky-blue eyes and black hair, tanned brown like we all were, before we knew to come in out of the sun before it gives you a face like an old accordion. Back in those days, who knew ― who cared? And in walks Ben, leaving a long-legged chestnut stockhorse tied up in the shade outside. He tips back his Akubra. He swings a leg over a stool by the bar. "Gidday," he says to the lad sweeping the dust back out the door, "any danger of a beer?" And his eyes are saying something else as they travel Will Fairchild from head to foot and back again. Any chance of rudey-do's before I get back on the road?

Of course, Will didn't know Ben Garvey was a bushranger. He probably looked like a drover headed east to another job, and you know he didn't look like a shearer. They say he was tall and straight-backed. Shearers were short because you need to be close to the sheep, and none of the stories of Ben Garvey ever mention him having a crook back, so Will would have looked into those big blue eyes and seen a drover, a bloke who was free as a bird, without a mortgage on his soul.

Suffice to say, when Ben Garvey wandered up the track the next day, he didn't ride on alone, and a year later the stories were all over the country, about the handsome bushranger and his beau. Mr. and Mrs. Fairchild didn't know where to look. The Reverend Kellogg prayed for Will's salvation, but I don't think it ever worked, because Garvey and Fairchild were notorious for ten years before they just vanished out of the folklore of Coopers.

Where they went, nobody ever knew ― but I always hoped they finished their days on a beach somewhere, with a line in the water catching dinner, while they humped on a blanket in the firelight. Now, that's romantic, at least if you grew up gay, and especially if you managed this unlikely feat in a place like Coopers.

Four generations of Thomases have run stock within twenty miles of the crossroads that's marked on the map as a town. In the early days they ran cattle, but it's a simple fact that sheep fare better out there, and sometime around the First World War George Thomas decided to change over. It wasn't as major as you might think, because George had married a sheep grazier's daughter, and what she didn't know about running sheep wasn't to be known. Also, George's brother had worked as a drover and shearer, at least when he was sober, in the ten years between getting out of the Light Horse and showing up on the Thomas station with a hard luck story and a job application that George couldn't exactly turn down, because, wino or not, Bobby Thomas was still his kid brother.

So up went the shearing sheds, in came twelve thousand sheep. Between them, the reformed Bob and young Esme Thomas nee Simpson steered George and the jumbucks onto a winning streak. The weather also cooperated in those days ― more rain, more free feed, more better-fed sheep, more wool, more money. You didn't need a sliderule to work it out. George and Esme had seven kids, but two died before they learned to talk and two were killed in the next war, and two of the others were girls. All this left my dad to inherit the property when George passed away, and as for old Bob, he married a widow from Coober Pedy and went to become a troglodyte out west.

Harry Thomas took over and married his childhood sweetheart from the next station, who was also the only single sheila of about the right age for fifty miles, so it's a good thing for Harry the Butlers had a daughter instead of another son, otherwise I'm buggered if I know what dad would have done for a wife, and four kids wouldn't have been born, myself included. Mum liked to tell about how she met my dad at the Friday dance, which was held at the pub in the days after the church burned down, and the rest is more or less history.

First came George, my eldest brother, who cleared off to school in Adelaide by the time I was eight. Then me, then Joanie, then Rayleen, and then the hysterectomy, which probably wiped some of the frown off dad's face, because times were getting rough on the land by then, and you were also expected to educate your kids. Sending a dozen kids to school in the city, your name had better be Kerry Packer. So much for the Thomas family history.

Not much changed between the day when Will and Ben rode out and the night my mum got knocked up in the bike shed behind the pub at the Friday dance. The graders came to put the road through, east-west, to take the big trucks.

Then Bob and Dolly followed the trucks and opened the roadhouse where the two tracks crossed. They put in a proper dunny, and a diesel bowser, and the big generators, so they could run a freezer full of forbidden fruit, such as the ice cream with the magic names like Amscol and Golden North and Streets and Peters. They got The News out from Adelaide, only two days old, and Dolly Carmody made the best meat pie east of Adee (even if it wasn't floating). They had a sixty-foot radio mast in the paddock behind the roadhouse, so their shortwave always got Adelaide, and sometimes even got Melbourne and Sydney. It must all have looked like sheer heaven to the truckies who bounced up that road in the grader days before the bitumen.

Part of the foundations of John Cooper's original pub were used when the roadhouse was built, and the brass plaque on the wall beside the door (you can see it if you shove the postcards out of the way) says, "Built on the site of the historic Drovers Rest Hotel, in memoriam of John J. Cooper who died here, a hero, on September 13, 1887." Died a hero, did old Mr. Cooper, nursing the potsheen still in the wee small hours. Reverend Kellogg buried him over the road in the cemetery beside the church. They buried the still right beside him.

It was the town's saddest day, but the locals didn't grieve for long, because John Cooper's grandson, a big-shot Melbourne publican, built a brand new pub fifty yards from the old one, painted up a new Drover's Rest sign, and put a couple of locals in to run it. Pumping beer in that location was like having a license to mint half crowns, and apparently it also didn't hurt that Marureen Stacy was behind the bar, pulling pints, four nights a week. There's a portrait of her up behind the bar to this day ― wearing a low-cut red frock and looking like a couple of sofa cushions half-stuffed into a duffel bag. It was a wonder she could stand up straight with her centre of gravity too high and all off-balance. (Try wearing your rucksack backwards, see what I mean.)

Not much ever changed in Coopers, and growing up gay there was an education in itself. Finding out about sex was dead easy when you were surrounded by sheep, horses, dogs, cats, pigs, chooks. But I don't remember ever seeing any of them being gay, so I spent several years of my later childhood totally confused, wondering why I wasn't interested in girls when the lads from the nearby stations were all drooling over pictures in magazines, and dying to get away to the city, so they could spend most of their lives in the dark, watching films. Somehow, I grew up anyway ― I don't think you can stop the process happening ― and somehow I actually grew up gay, though I didn't know the words for it.
Read Mel Keegan's 5-star reviw!!
Read Cryselles Craziness's 4-star review!