SEARCH:
SEARCH:
Will sets out to help Takoda and his tribe preserve some of their identity... and ends up finding his own. More...
People confound young, brilliant, college professor Brendon, including his boss. So when Josh, the assistant football coach, pursues him, Brendon isn't sure what to make of him. More...
Contemporary: L - R
Book Titles A - D | Book Titles E-K | Book Titles L-M | Book Titles N-R | Book Titles S-Z
L
From a shallow grave in Griffith Park, to the bucolic streets of West Hollywood into the dark heart of the gang-infested streets of East L.A, evil is pursued in this dark story of passion and redemption.
L. A. BYTES by P. A. Brown
Los Angeles' Ste. Anne's Medical Center has been hacked by a brilliant, malicious cracker. Can Chris and David stop him in time? Or will a digital Armageddon descend on the city of Angels? At what cost to the two lovers?
In-the-closet detective, David Eric Laine has kept his desires secret. Until he meets Christopher Bellamere, proud and openly gay. When a series of horrific torture/murders of gay men leads the police to Chris, David is torn between his attraction for the most beautiful man he's ever met and his fears that he's a vicious killer.
L. A. MISCHIEF by P. A. Brown
When David gets hurt in the line of duty Chris goes to see him. Can they pick up where they left off, or are they just reaching for something that just isn't there?
Visit the Manhole @ The Phade
LEATHER, LICKING, AND LAWNMOWERS by Dusk Peterson
A 5 &10. A potluck. A hamburger joint. A waltz party. Perfect places for leathersex.
LES HOMMES, VOL 1 by Christiane France
LES HOMMES, VOL 2 by Christiane France
The Letter Z by Marie Sexton
Zach and Angelo have settled into their new lives in Coda, Colorado, finding their place in the community with the help of their good friends Matt and Jared. Zach and Angelo are also working out the particulars of their relationship, but when they make a decision Jared disagrees with, Angelo finds himself at odds with his partner's best friend. And his best friend's partner. More..
LIBRARIANS DON'T GET MARRIED by AP Miller
Aspiring author, Boone Daniels, always figured love would be as easy as he was. Fresh off the whirlwind winter-vacation romance with ski-god and would-be boyfriend, Wade Walker -- Boone was certain that saying goodbye would be the hardest part. He'd survived the unconventional way in which they came together, proven himself somewhat worthy to Wade's hometown of Summit City, and felt certain the self-imposed, six month boy-buffer would prove one thing - their fate was to be forever entwined. Once real life settles in, Boone suffers the realization that no one ever actually said love was easy and that even after you fall, you can still break. As their two worlds collide, he begins to understand that if he can navigate the landscape of life in fusion, he just might get that happily-ever-after -- after all.
LIGHT OF DIFFERENT MOON, A by Patric Michael (in To Die For anthology)
Family love and a new love conquer the glowing hell during a storm in A LIGHT OF DIFFERENT MOON by Patric Michael.
LIKE A MOTH TO A FLAME by Christiane France
LITTLE JAPAN by Reno MacLeod & Jaye Valentine
LOCKER ROOM by Alexander Cee. An interracial short story between Carl Simmons, a white out of work office worker, and Derrick Wilson, a young, six feet seven, black maintenance man.
LOST TEMPLE OF KARTTIKEYA by Laura Baumbach
THE LOST TEMPLE, by Stevie Woods
When Ian finally manages to track down the last clue to the Lost Temple in Belize hinted at by the artifact he had found the year before, he is thrilled at the idea of organizing an expedition. He joins his partner on a trucking run during which they make plans for their extended visit to Belize happy that Mac insists on going with him no matter how long it might take. However, before they can jet off on their next adventure they must first face a man from Mac's past who is bent on revenge.
LOVE, GRANT by AKM Miles
This is a sequel to Love, Jamie. It's a year later and things should be wonderful. But someone seems to have it in for Grant and Jamie again. How far will this person go to harm them? Small pranks that they, at first are able to explain away, turn into dangerous events that leave them once again terrorized. It can't be him, can it? But he's still in prison, isn't he?
LOVE IN DARK SETTINGS OMNIBUS by Dusk Peterson
700,000 words of fiction, including gay contemporary fiction. 28 collections of fiction recommendations and nonfiction, including annotated lists of hundreds of novels, short fiction, and memoirs, online and in print: friendship fiction, gay fiction and erotica, original slash and yaoi, leather fiction, Victorian and Edwardian writings, science fiction, fantasy, historical fantasy, and historical fiction.
LOVE, JAMIE by AKM Miles
Jamie Taylor meets Grant Stevens through his work as a tech at a physical rehabilitation facility. Sparks ensue and Grant comes out of the closet for Jamie. Things would be just great if it wasn't for the fact that Jamie has this stalker problem. The administrator's son, Donnie, has a thing for Jamie and doesn't like Grant showing up and horning in on what he considers his territory. Will Jamie and Grant's new and exciting love for each other be able to withstand Donnie's violent acts of jealousy?
LOVE MEANS... COURAGE by Andrew Grey
Love Means... Freedom by Andrew Grey
LOVE MEANS... NO BOUNDARIES by Andrew Grey
Love Means... No Fear by Andrew Grey
LOVE MEANS... NO SHAME by Andrew Grey
LOVE QUEST by Martin Delacroix
Eighteen year old Jamie Bliss ages out of the foster care system, a victim of repeated sexual abuses. After hustling tricks and living on the street for a time, Jamie enters into a couple of abusive relationships before meeting Evan and Frederick, a gay couple who become Jamie's mentors. Can they help Jamie overcome his destructive past? His low self esteem? And when Evan introduces Jamie to Evan's colleague, Jack, a young school teacher who pursues Jamie's affection, can Jamie open his heart to Jack? Despite the bad cards life has dealt Jamie, is he still capable of love?
LOVER'S TRILL by Viki Lyn
Let the musical magic of Vienna weave a second chance at love. Rocker Leo needs a break. From the band, roadies, everything related to his present life. Wandering the streets of Vienna, he chances upon a poster that just might change his life.
LOVING EDITS by Mickie B. Ashling
LOVING LYDIA by Berengaria Brown
Tammy's sights are set and goals targeted. With one thing on her mind - Lydia - she will stop at nothing to satisfy every craving her body has for the seductive female, including showing up at the same gym for a chance encounter
LYNX WOODS by P. A. Brown
Can men build a bond strong enough to withstand everything the world throws at them? But how far, and to what lengths, will Tyler push Charlie to make him admit who he truly is? When two stubborn alpha males put their desires and needs to the test, will they discover that "surrender" isn't necessarily a bad thing and that, in the game of love, there are sometimes no losers, but only winners?
MAGIC HAPPENS... by AKM Miles
Trent Casey is brooding on Halloween, the anniversary of his lover's death, when Guy appears to bring him a message from the beyond. Guy was in an accident and slipped into a coma, where he met Trent's ex. Daniel asks Guy to go to Trent and tell him to get on with his life, for Heaven's sake, and let Daniel go over to the other side without worrying about Trent's unhappiness. It's time. Daniel loved Halloween and believed that magic happened on the special holiday. Trent was a little harder to convince, but there's something about guy that makes him want to believe. Will Guy bring a little Halloween magic to Trent's life and find his own way after his near death experience?
MAKE ME: KINKAID WOLF PACK, BOOK 2 by Jessica Lee
Becoming the alpha of one's wolf pack—brutal. Keeping the title and your mate alive all at the same time—living hell.
MAKING YOUR OWN LUCK by Sean Michael
Isaac is very superstitious and he's having the worst Friday the 13th ever. Can Rusty turn his luck around?
MALONEY'S LAW by Anne Brooke
MANAGEMENT TRAINING by AP Miller
MAN'S BEST FRIEND by P. A. Brown
New Mexico, the land of enchantment weaves a spell of love around Todd Richards and Dr. Keith Anderson as they struggle to make their love work amid terrible loss, betrayal and rustlers and make their dream of a bed & breakfast in Santa Fe a reality.

MARITIME MEN by Janey Chapel
Oooh!! Navy SEALs!!!
The Marketplace, by Laura Antoniou.
One of the best-known series of erotic novels, The world of the Marketplace first opens at a slave training house on Long Island, run by Alexandra Selador and Grendel Elliot. After the trainers accept Sharon, Brian, Claudia, and Robert into the house, the trainees struggle to overcome their shortcomings; pride, selfishness, immaturity and perfectionism. Who among them will survive the training meted out by the rigorous and unrelenting Chris Parker? And who will uncover the truth of his or her own sexual need to submit?

MASK by Jan Irving
Hiding behind the safe mask of Obsidian, his online persona, Kain Mitchell woos Nick Anders, an untouched artist. Nick tells himself that Obsidian is merely his erotic muse, but when Kain drags him down into his dark world, echoing the myth of Hades and Persephone, Nick discovers he wants to see him, touch him, and move beyond the limitations of masks. Because as seductive as Obsidian is, Nick senses Kain's real isolation.
THE MASK by Clare London
There's a very mixed reception for Joey and his lively, unruly friends, when they go Trick or Treating on the penthouse floor of the exclusive Royal Apartments. Everything from hostility to humor to handfuls of caramels. But at the final door, a horrific masked figure tricks Joey into finding maybe the best treat of all.
MASTER OF THE REVELS by Andrew Grey
MASTER PRESTON'S BRIGHT BOTTOM by Lee Benoit (in TOY BOX: COLLAR)
After one, intense public scene with Master Preston Rose, Paulo can't stop thinking about it. He's determined to become a part of the retired Dom's life, but will all of his work be enough to get him the collar he dreams of?
MATTER OF TIME, A, by Mary Calmes
MATTER OF TRUST, A, by AC Katt
Can Bear and Brian overcome their own insecurities, murder, assault and revenge? In the end it's all A Matter of Trust. More...

MAX'S ITALIAN ROMANCE by Serena Yates
Max still can't get over the loss of his lover two years after the accident – so a trip to Florence and its famous works of art might be just what he needs.
MAY DAY by Bryl R. Tyne
His forty-ninth birthday approaching, Ed is expecting nothing more than his usual stiff drink and an anonymous fuck in the back room of Yancy's Crossings. What he never expected was to be picked up by two college students and taken for a ride that would change his life forever.





MEDIATOR, THE by A.J. Llewellyn
Icarus Smith has two problems, and they both want him…Their Mediator. Icarus Smith has just landed an unusual assignment. A licenced mediator used to handling squabbling spouses, he's been hand-picked to mediate between two, world-boxing champions about to demolish a forty million dollar welterweight championship title fight.
MELODY THIEF, THE by Shira Anthony
Cary Redding is a walking contradiction. On the surface he's a renowned cellist, sought after by conductors the world over. Underneath, he's a troubled man flirting with addictions to alcohol and anonymous sex. The reason for the discord? Cary knows he's a liar, a cheat. He's the melody thief. But when Italian lawyer Antonio Bianchi rescues Cary from muggers on a deserted Italian street, Cary's life changes immeasurably.
MELTING THE SLOPES Anthology by Ethan Day, William Maltese, & Jason Edding
Ethan Day's Sno Ho combusts ski-slopes with the heat of Boone, Wade, ski lessons, and Irish coffee. William Maltese's Bottom's Up mixes erotic lovers and exotically lit-and-layered Pousse Cafes amidst the snowfalls of London, Paris, Brasov, and Aspen. Jason Eddings's One Fire, One Ice mixes enough Grant, Babhru, schnapps, and steamy cocoa to melt slopes and loving hearts.
MEMORY OF DARKNESS by P. A. Brown
Can Wager stop the killers and reconcile with his son or will he end up being the next victim? Betrayed by friends, beset by his own conscience that has come back late in life with a vengeance, and the need to redeem himself, he battles the ruthless mob in the only way he knows how: with cunning and a total disrespect for the law.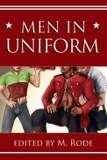 MEN IN UNIFORM II edited by M. Rode.
Everything from athletes to chefs to Trekkies is covered in this anthology of hot men in hotter uniforms.
MEN UNDER THE MISTLETOE (anthology) by Josh Lanyon, Harper Fox, Ava March & K.A. Mitchell
A man receives the gift of pleasure at the hands of two expert lovers. Boyhood sweethearts get a second chance at romance. Two very proper gentlemen indulge their forbidden desires. And a Christmas tree farmer has an epiphany. It may be cold outside but these four holiday novellas will warm you up.
MERGER by Lydia Nyx
Paul Malkovich and Damon Trussel have just sealed a major deal: the merger of their respective companies, textile manufacturers on either side of the Big Pond. After the obligatory high-society celebration, Damon expresses to Paul he'd like to cement their business union with a more personal one. They take a steamy limo ride around London, during which Paul teaches Damon something even better than business politics.
MEXICAN HEAT by Josh Lanyon and Laura Baumbach
MIDNIGHT SUN by G.S. Wiley
MILESTONES by Chrissy Munder (in the Reflections of Love Anthology)
MILLENNIUM by G.S. Wiley
MIRACLE ON LASALLE STREET by Lydia Nyx
Illinois has just legalized gay marriage and Danny is about to obtain a license with his partner Eric–a dream come true for both of them. On his way to City Hall in Chicago, Danny meets a curious, quiet young man in the LaSalle Street station. Though a seemingly innocuous meeting, Danny doesn't realize the encounter will change both their lives, in an even bigger way than Danny's life is already changing.
MIRROR TWINS 1: SWINGERS by Sarah Levin Colter
Leo discovers swinging isn't the same thing as love.
MISTLETOE EXPERIMENT, THE (Mistletoe Science, #3) by Serena Yates
Lance is on cloud nine. His lover Magnus has proposed to him, making Lance the happiest man on Earth, and they are planning to move their family to Sweden for Magnus's new job at Stockholm University. But when an old enemy resurfaces, followed by an unexpected new threat to their relationship, their new life in Europe with Magnus's nephew Jakob turns out to be very different from what they had hoped...
MISTLETOE PHENOMENON, THE (Mistletoe Science, #1) by Serena Yates
When Mangus Carstens, an eminent glaciologist with custody of his 8-year-old nephew, meets Lance Riviera, a disillusioned physical therapist the two men come together--literally under the mistletoe. Will they be able to keep their little family together despite the outside threats?
MOMENTOS by Mickie B. Ashling
Before Mick brought everyone together in Loving Edits is was simply Mick and Paul, two optimistic teenagers who began a love affair that would span twelve years and leave an indelible mark in their lives.
Monster: Book One by Dani R.R. Hermit & Nevi Star
Torn from the comfortable world of popstardom and thrust back into the world he thought he'd escaped, the only comfort Siris has is that he is being partnered with former bandmate Julian, the only man who's ever turned him down and the one Siris wants more than anything else. Even years after their boyband broke up, Siris still longs for Julian. Will the secrets they each carry keep them apart or draw them together as they do the dirty job of hunting monsters for the Parliament of Twilight?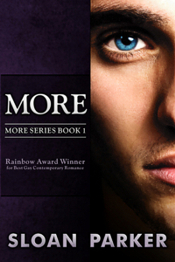 MORE by Sloan Parker
A confirmed loner spends one explosive night in a sex club with two men who make him want to break all of his self-protective rules, especially the no-repeat clause. But his father, a senator, is determined to destroy Luke's something more.
MORE THAN SEX by Stevie Woods
When Richard met Phillip, he found someone who did everything humanly possibly to make his life better and easier platonically, of course. If he could just be honest about his feelings, he'd be worthy of so much more.
MOVING ALONG by Addison Albright
Brandt's new relationship with Mark has been moving along nicely, but they'd like to make this, their first Christmas together, extra special.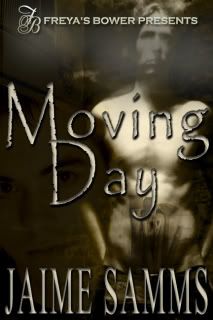 MOVING DAY by Jaime Samms
Rebuilding a life is never quite as easy as rebuilding a home, but Mike is finding they might be one and the same where Jay is concerned.
MOVING ON by Addison Albright
Brandt's been trying to rebuild his life, but it's been a difficult year. On this special Halloween night, maybe Graeme can help both Brandt and himself move on.
Lex is bored at a Live Action Role Play bar gathering of Vampire the Masquerade and winds up in the arms (and on the teeth) of another partygoer. Complete with explanatory footnotes, and numerous asides, read at your own risk.
MURDER ABOVE FOURTH by J.P. Bowie
When one of the owners of 'Above Fourth', a popular San Diego nightclub, is needlessly murdered, Nick vows to take Forsythe down, but in his determination to see the man behind bars, Nick throws caution to the wind.
MURDER MOST GAY by John Simpson
"Murder Most Gay," the first in the series, is the story of Patrick St. James, an attractive young, gay, rookie cop. Follow Patrick as he faces the challenges of doing his job and navigating the homophobic waters of his precinct. Patrick finds solace in the company of another gay rookie cop, and together they're assigned pivotal roles solving a string of serial murders hitting the gay community. Ride with Officer Patrick St. James as he works to solve the case, and find the love of his life.
Musclebound by Laura Antoniou, writing as Christopher Morgan.
In the New York City bodybuilding scene, country boy Tommy joins forces with sexy Will Rodriguez in a battle of wits and biceps at the hottest gym in town, where the weak are bound and crushed by iron-pumping gods.
MUSE by Clare London
Gavin's career is in ruins, his health is failing and his arrogance has alienated everyone. But when his painting is apparently ruined, a strange, beautiful young man arrives as his Muse. Matteo's devotion across the centuries allows Gavin to reconsider a love he'd always scorned - before it's too late.

MUSIC IN THE MIDST OF DESOLATION by Charlie Cochrane
Old soldiers never die -- they get whisked straight back to earth to take part in angelic "manoeuvres". Patrick Evans has no idea why he and Billy Byrne, who fought their wars a century apart, have been chosen for this particular "op", nor why it seems to involve fixing up the man Billy left behind with someone Billy's always hated. When Patrick realizes his old lover also has a connection to the case, will the temptation to refuse orders become too great?
MY YAKUZA by A.J. Llewellyn and John Simpson
Shiro Yamada has infiltrated a fearsome Yakuza clan in Tokyo in search of his missing mother, but now both their lives are at stake, unless he's willing to kill a New York City cop.
Book Titles A - D | Book Titles E-K | Book Titles L-M | Book Titles N-R | Book Titles S-Z