SEARCH:
SEARCH:
Will sets out to help Takoda and his tribe preserve some of their identity... and ends up finding his own. More...
People confound young, brilliant, college professor Brendon, including his boss. So when Josh, the assistant football coach, pursues him, Brendon isn't sure what to make of him. More...
Contemporary Titles: A-D
A | B | C | D | Page E-K | Page L-R | Page S-Z
33 by J.J. South
The torment of deprived love, of the heart's desperation to find a mate, of the body's innate needs and quest to find companionship, of the void of body contact and sexual fulfillment. These everyday dilemmas are the foundations of '33 a gay love story'. More...
911 by Chris Owen
Drew is a fireman who loves the rush and is looking for a roommate to share costs. Scott is a doctor looking for somewhere to live that isn't with his now ex-lover. The match seems more than perfect when Scott moves in, so what happens when along comes EMT Eric with his blond good looks and boyish smile?
ABOVE ALL by Jane Elliot - When volatile genius Dr Jasper Swinton accidentally hits a homeless man with his car one night in a seedy part of town, he finds himself taking responsibility for the man's recovery in a very personal way. Before long, Brian has become such an integral part of his life that Jasper doesn't know how he'll ever begin to manage without him – until the day comes when he has to …

The Academy: Tales of the Marketplace, by Laura Antoniou.
Book Four in the famous Marketplace series, this book explores both the strict, hidden order behind the men and women who train the exquisite Marketplace slaves and the mysteries behind the life of Mr. Parker himself. To add to the sense of multiple voices and cultural differences, author Laura Antoniou invited friends to create short stories, told in the voices of various trainers and spotters, and woven through the primary tale. Politics and sex abound in this "novelogy," and fans of Chris Parker will learn even more about how he first met Anderson and entered the Marketplace.
ACCELERATION (IMPULSE, BOOK TWO) by Amelia C. Gormley
As he begins to settle into his new relationship with Gavin Hayes and explore all the please he's denied himself over a decade of celibacy, Detroit handyman Derrick Chance discovers sharing his life isn't as easy as sharing his bed.
ACTING OUT (Calm and Chaos) by Sharon Maria Bidwell
When one man is the epitome of calm and the other of chaos, how will they ever admit to loving each other? Can a kiss really change everything?
ADAPTATIONS by Lee Benoit (in TOY BOX: Beads)
Paulo worries that Preston is no longer interested in topping him. Can friends and family help Paulo figure out what's wrong or are Paulo and Preston on their way out?
AD-DICK-TION: VOL. 1 - ANTHOLOGY by various Breathless Press authors
In this collection of sizzling hot Adonis shorts, feel the passion again with previously released m/m erotic stories along with an all new story by Kayla Jameth - Legends.
AD-DICK-TION: VOL. 1 - LEGENDS by Kayla Jameth
Austin promised his assertive lover a magical evening. He has arranged to celebrate Jack's birthday at the new concept restaurant Legends. Will Legends be everything he hoped it would be?

ADMIT ONE by Jenna Hilary Sinclair
Tom is a deeply closeted high school teacher living in a small west Texas town in 2008. He doesn't allow himself anything but one-night stands in gay clubs far away, even when he meets and has sex with Kevin, a man he's strongly attracted to. His life is narrow and always, always cautious. Reluctantly, Tom becomes the assistant director of his school's production of Rent. The town protests the play, Kevin re-enters his life, his fear of being outed rises... and he finds himself falling in love, even while knowing it's a hopeless situation.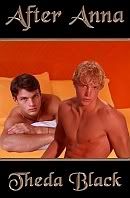 After Anna by Theda Black (Book One, and sequel Touch Like Breathing)
Will and Tyler are best friends . . . and maybe more. But Tyler's got a secret that could end their relationship before it begins. READ MORE...
AFTER THE SUNSET by Mary Calmes
Two years after riding off into the sunset with ranch owner Rand Holloway, Stefan Joss has made a tentative peace with his new life, teaching at a community college. But the course of true love never does run smooth. Rand wants him home on the ranch; Stef wants an exit strategy in case Rand ever decides to throw him out. Finally, after recognizing how unfair he's being, Stef makes a commitment, and Rand is over the moon.
AGAIN by Mary Calmes
Six years ago, Noah Wheeler went to meet his boyfriend, Dante Cerreto, at the airport, and his world ended. Dante was kissing someone else and claimed to be in love. So Noah took his heartbreak—and the sonogram pictures of their surrogate child—and closed the door on the big picture of what he thought his life would be, focusing instead on the piece of the dream he got to keep, being a father. More...
ALASKA HUNT by Shelter Somerset
For Alaska Wildlife Trooper Zanebono Fusca, it's just another summer in Anchorage until a slew of inexplicable fatal bear attacks sets the city reeling. As far as Zane is concerned, the timing couldn't be worse. He's besieged with his own demons, coping with personal loss and an identity crisis that clutches him worse than a grizzly's pickaxe-sized fangs. Ten years before, he hoped Alaska would bring him a sense of his manhood. Now the "last frontier" could put him in an early grave. More...


ALI BABBA AND THE MANY THIEVES by Alexander Cee.
A group of overworked, worldwide police officers must bring down an unstoppable team of international crooks. Can Police Detective Mark Anderson and ex-cop and ex-partner and full time lover Lawrence C. Richardson help to bring them to justice?
ALL IN A VALENTINE DAY'S WORK by Giselle Renarde

I'm here to fix your plumbing.... Lexi the Sexi building superintendent (okay, assistant super) thinks she's taking Valentine's Day by storm. She doesn't do 'romance' or 'relationships.' Casual sex with attractive tenants is more her style. After an exhausting porn-watching session with a cute guy in the building, the beautiful Mrs. Suraj won't release her until those rusty pipes are fixed. The sexy super comes home to a pussycat pair of college friends desperate for someone to help them out with their Valentine's Day gift to each other: homemade porn! For Lexi, gettin' it on is all in a Valentine Day's work!
ALL'S FAIR IN LOVE AND ADVERTISING by Lenore Black
Creative genius Max Tomlin has a new account to win and a new man in his life. The only hitch? The new man is Joe Bennett, his prospective client! Can Max save the account, save his relationship, and save the day? Or will he lose everything?
ALL WASHED UP by Sharon Maria Bidwell
Peter didn't expect the sanest person in his growing list of crazy clients would be another man with a bruised heart, who has a lot to answer for, including his future. It seems Peter's life is all washed up, but maybe the answer is to "bare" all, including his heart.
ALOES by Chris Quinton
Perry has a talent. Lies are bitter as aloes and truths are apple-sweet. This, the too-attractive Drew Connors and the dilapidated mansion Perry has to restore, plus the anonymous threats that escalate to attempted murder, ensure Perry's life will never be the same again.
AMERICAN REVOLUTION: a gay novel by Byrne Fone
A murder at the New York City gay Black Party seems destined to become front-page news, especially since the victim is an aide to front-running presidential candidate Bradley Wright. But when investigative reporter Philip Kristopher takes the story to his network chief, he is told to forget it. When the story appears to be totally erased from the media, not only Philip, but Randy Asher and Tim Haley, leaders of the National Diversity Coalition, suspect a cover-up.
AN ACT OF GENEROSITY by Sharon Maria Bidwell

Rob doesn't want to let Lee go and Lee would love to stay, but his duplicity is killing any chance they have of a relationship. Having a generous and kindly nature can be a curse...or a blessing -- especially when it accidentally leads to possibly finding true love, but has an act of generosity returned to kick Rob where it hurts most?

ANCHORS AWEIGH by Janey Chapel
Sequel to MARITIME MEN. The continuing adventures of Navy SEALs Cooper Fitch and Eli Jones.
ANGEL by Laura Lee. A widowed minister finds himself attracted to the young male drifter who comes to the church for healing and care.
ANGEL HEART by Sharon Maria Bidwell
There's a reason Dean calls his lover "Angel." But Jay's thoughts are far from angelic. He must stop his sister interfering in their relationship, and ask if Dean's remembered to pack the strawberry lube for the weekend. (Note: ANGEL HEART is the sequel to SNOW ANGEL)
ANOTHER DREAM by Addison Albright
When a shy, twenty-nine year old virgin erotica writer with a tool belt fetish crosses paths with an outgoing carpenter the fireworks soar. Hot, humorous, and sweet, don't miss this journey of self-discovery.
Visit The Manhole @ The Phade...
ANY CLOSER by Mary Calmes
Charlie Ryder has a colorful past, painful memories, and an embarrassing secret. After three years working for Leo Foster's construction company, Charlie's worst fears are realized, and Leo finds out what Charlie has worked so hard to hide.
ANY EXCUSE (Max & Skyler 2) by Acer Adamson
APRON STRINGS by Jaime Samms
Letting go might be the only way to find a true feeling of security.
Aria (Blue Notes #3) by Shira Anthony ~ Romance set in the world of international opera.
A Road Not Taken by Jennifer Thorne ~Taking the road less traveled may lead you home.
A Shared Range by Andrew Grey
AS YOU ARE by Ethan Day
Julian has no idea what he wants to do with his life - except Danny, his roommate. He's tried everything to make Danny fall in love with him, to no avail. But when he finally throws himself back into the dating scene, has he given up too soon?
AT DAY'S END by Bryl R. Tyne
Samuel's not just feeling old, he is old, but he's not dead... not yet. And the bright spot of his week is spying on his hot new gardener. No one knows better than he does how ridiculous it is to think a twenty-something beefcake would show any interest in a recluse like him; fifty years hasn't changed a thing, really. Though Samuel feels a connection he can't explain, he's stunned beyond words one Friday morning to find the young man knocking at his back door....
A to Z by Marie Sexton
Zach Mitchell is stuck in a rut. His college boyfriend left him ten years ago, but Zach still lives in the same apartment, drives the same car, and feeds his ex-boyfriend's ungrateful cat. His Denver business, A to Z Video Rental, is struggling. He has annoying customers, eccentric neighbors, and an un-fulfilling romance with his landlord, Tom.
A combat boot-wearing punk with an attitude, Angelo Green was raised in foster homes and has been on his own since he was sixteen; he has never learned to trust or to love. He doesn't do relationships, so when Angelo takes a job at A to Z Video, he decides Zach is strictly off-limits. More...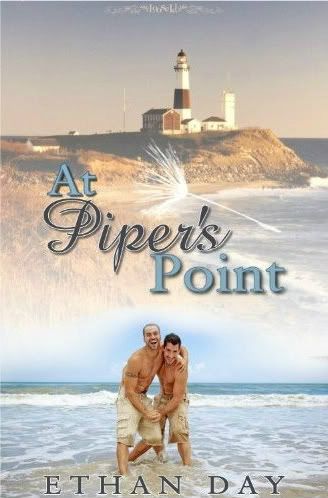 AT PIPER'S POINT by Ethan Day
Amid mojitos and martinis, Cassidy Winters finds himself ensnared in a multi-layered love triangle. While tensions and libidos boil over, though willing, he's not sure if he's ready or able for life and love at Piper's Point.
BADGES by John Simpson
Enter the world of men who wear badges and uniforms, everyday heroes who go home every night and dream the same dreams as every other man. They yearn for someone to love, someone to share their beds, a lover, or maybe even a partner for life. Follow these men in a collection of stories about what can happen when sparks fly between perfect strangers and old friends.
BAD HAIR DAY by Clare London (in FLIPPED FABLES)
The tall, dark, handsome and rather emotionally sheltered Prince Stephan is persuaded on a Quest. But nothing is what it seems, not the Witch, not the Princess and most definitely not the young captive in the Tower who lets down their hair each day for Stephan to see and be captivated by.
Balance by Zahra Owens
By day Cooper Miller is a bland paper pusher, a health and safety inspector who does everything by the book. Deciding he needs some excitement in his life, he sheds his off-the-rack suit and tan raincoat and signs up for an introductory session at a BDSM club. His welcome mat turns out to be Nando Arenas, the man who owns the new tattoo shop Cooper inspected just that morning. At first glance, Nando seems like forbidden territory, but when Cooper discovers a taste for being tied up and dominated, the enterprising tattoo artist delivers all the excitement Cooper could want.
A BARRACKS AFFAIR by John Simpson
Basic training at Lackland Air Force Base is over and Airman Zach Kellerman passed with flying colors. A natural leader, now he shoulders the responsibilities that come with being in charge of the barracks, but his professional conduct is challenged by the vivid blue eyes and buff body of Matt Williams, a soldier under his command. But just one rumor could bring about an investigation that could end their careers before they get started, and the bittersweet barracks affair may be doomed from the beginning.
BASES LOADED by Sean Michael
Brett's on the injured list and he and his lover Benj go to an exclusive rehabilitation center run by Ralph and his lover Jean. Can they help Brett get back to the diamond where he wants to be? Or will life throw one curve ball too many at Brett?
BAY CITY PARANORMAL INVESTIGATIONS SERIES by Ally Blue
BEAR, THE by P. A. Brown
Scott Thompson discovers a dead bear, killed by poachers in the parkland he calls home. He is charged with investigating this tragedy and trying to bring the poachers to justice. Then a second bear shows up. Or so he thinks. But when Scott calls in his boss and mentor, a sturdy dark mountain man named Luke Stadler, to assist him, the 'bear' turns out to be a naked man, seeking shelter in Scott's barn, shot in the leg and seriously injured.
BEARING WITNESS by Lee Benoit (in TOY BOX: Guiche)
When Preston and Paulo witness the end of a contract between Tasim and Jesse, Paulo begins to worry about his own place with Preston. Preston seeks something special to reassure Paulo of his place in Preston's life. His permanent place.
BECOMONG ALEC, by Darwin Ward What happens when a lesbian realizes that she's not a woman after all?
Visit The Manhole @ The Phade...
BEDSIDE MANNER ed. Jennifer B with stories by Lee Benoit, Jane Davitt, and Sean Michael.
Who needs a little TLC? Who doesn't? The doctor is in, and he's got just the prescription you need. Open wide and say ahhhh.
BEHIND BLUE EYES by Bryl R. Tyne
Hopeless romantic Martin LaRocca has eyes for only one man and faith their paths will continue to meet. Daniel Stroemeyer isn't looking forward to Mardi Gras' end, when all the parades and floats and balls and people will vanish, and focus on his life as heir to his uncle's New Orleans empire will return. Never in his forty-six years did he imagine doing anything other than taking over the family business—until he fell for the son of his uncle's number one rival. Never in Daniel's cold-hearted past did he imagine a day he'd consider quitting work for his uncle and his murderous ventures. More...
BEND OVER BIG BOY (anthology edited by Kit Zheng)
Ever wonder what happens when the tables are turned on a rough, tough top, and he ends up on the bottom? Who doesn't? Bend Over, Big Boy has plenty of butch subs and tough guys in trouble, whether they beg for it or have to be coerced into taking it like a man. The smoking hot stories in Bend Over, Big Boy range from rough and raw to wicked and playful, all the while giving a nod and a wink to setting convention on its ear.
BENEATH ME by Bryl R. TyneProduction Super Mark Hicks just wants to get through each day with zero safety violations. But the newspaper's lead pressman, Ben Moody, wants to get through the day without taking orders from Mark. Stubborn, broad-chested, and respected by his men, Ben is in demand and always in control—and that's what irks Mark about the arrogant, blue-collar Ben. Not that Mark can't stop dreaming of spending his nights beneath that hard muscled body, completely at Ben's mercy.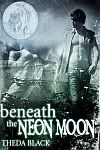 Beneath the Neon Moon by Theda Black
Zach's alone, he's lost his job and the rent's coming due. He thinks he knows all about bad luck, but he's about to find out what it really means. In high school, Mal was the golden boy. Then he lost his way. Now he's back on track, working his way through college and looking toward the future. They've never met, but one summer night everything changes. READ MORE...
BENT by Sean Michael
Jim's life has fallen apart and he's barely subsisting. Marcus believes he knows just what Jim needs: him.
BERMUDA HEAT by P. A. Brown
A letter. A secret. A tragedy. David's mother told him his father died when he was born. His mother lied. Now the lies unravel and the newly married Chris and David embark on a journey to discover the truth.
BEST LAID PLANS by Cat Kane
BEST MAN, THE (Four of Cups) by Jenna Jones
Zack and Quaid have been lovers for more than a decade, but things aren't going well between them. Quaid is dependable, but Zack is bored, dissatisfied with their routine. At a family wedding in Las Vegas, Zack does his thing, with little consideration of what Quaid wants or needs, until he notices how much attention one of the other guests is paying to Quaid. And how much Quaid is loving it. Zack has always known Quaid was the best man for him. Now, can he prove he's the best man for Quaid?
THE BEST REVENGE by Andrew Grey
BEST UNSPOKEN by Bryl R. Tyne
May/December relationships never turn out like this... Do they?
BETTER LATE THAN NEVER (part of the Gamers Taste Test) by Misa Izanaki
BETTER THAN A SALE by Chris Owen
Marco Prince is wiped out by the time he finally closes his costume shop on Halloween; there's no fun left in the holiday he loves and works for all year. His cash register may be overflowing, but everything else is empty - until Saul shows up ...

BETTER THAN MONEY by Taylor Lochland
Jack and Felix both worked as escorts until Felix found love with Julian, the owner of the hotel where they meet clients. When the holiday season rolls around and Jack sees how happy Felix and Julian are, he starts to wonder what he?s missing. His occupation doesn't exactly lend itself to finding out, until he meets limousine chauffeur Charlie. While they hit it off right away, they each have problems to overcome if they want to build something permanent together.
BETWEEN HEAVEN & HELL: HEAVENLY SINS 1 by L.M. Brown
Angel Machidiel (Mac) and demon Alastor have been denying the attraction they feel for each other for centuries because relationships between angels and demons are forbidden. Things change forever when they both fall for the same mortal man and begin a relationship with him. Together with Tristan, the menage they form is filled with jealousy and insecurities, passion and love. Only time will tell if the relationship they have forged together is made in Heaven or Hell.
BETWEEN A ROCK AND A HARD PLACE by Clare London
Garry fears he's thrown away his chance of love with Will following the stupidly clumsy pass he recently made. But while waiting for Will's holiday flight in an uncomfortable, noisy airport lounge, he receives unexpected matchmaking help from two unusual children, plus their less welcome mess of ketchup and candy.
Between Sinners and Saints by Marie Sexton
Levi Binder is a Miami bartender who cares about only two things: sex and surfing. Ostracized by his Mormon family for his homosexuality, Levi is determined to live his life his own way, but everything changes when he meets massage therapist Jaime Marshall.
Jaime is used to being alone. Haunted by the horrors of his past, his only friend is his faithful dog, Dolly. He has no idea how to handle somebody as gorgeous and vibrant as Levi. More...

BETWEEN TWO PROMISES by Shelter Somerset
Daniel will have to decide if love is important enough to risk losing everything he knows. Will Daniel choose to keep his commitment to the Amish church or will he stand by the promise he made to Aiden that first night they made love?
BETWEEN TWO WORLDS by Shelter Somerset
Aiden is drawn to the solemn and mysterious Daniel and decides to hang around Amish Country for a while longer, despite the risk of terrible consequences for Daniel. But Daniel's suspect sexuality might not be the only secret he's harboring, and as Aiden becomes more and more enmeshed in the community, he discovers that a hidden past may make it even harder for Daniel to face his emerging feelings.
BETWEEN US by AKM Miles
Vacationing alone in Gatlinburg, Jason Tyler meets photographer Matt, and finds out they have a lot in common, including a plethora of first names. Their physical attraction is strong enough that soon they're on a first-first name basis, and their growing friendship is an added bonus. Jason and Matt find out that they live near one another in their everyday lives, but they're not sure their need for each other will go beyond holiday happiness. Jason thinks Matt is worth the trouble, but Matt's still getting over a lost love. Will they manage to find each other once their vacation ends?
BETWEEN US TWO by AKM Miles
In the sequel to Between Us, Matt returns, the feelings are strong and Jason and Matt start a real relationship. Things get a little complicated when the child stows away in Matt's car and Matt is accused of kidnapping. How to prove his innocence and protect the child from an abusive parent, while trying to find time for each other is a task. Matt falls in love with Jason's dogs and the opportunities for more excellent photography presents itself.
BITING THE CHRISTMAS BISCUIT by Dawn Kimberly Johnson

BIT OF ROUGH, A, by Lara Baumbach
BLACK HEART DOWN by S.J. Frost
For Robbie Russo, only one man has ever owned his heart, Kyler Christenson. The years at each other's sides never diminished his love for him, but with the rise to fame in their rock band, Black Heart Down, more than a few challenges hindered their relationship. Now, he's reached a crossroads, either he'll have all of Kyler, or he'll walk away from everything they've built together.Kyler may be fearless on stage, but if there's one thing to send his heart crashing down, it's losing Robbie. When Robbie delivers his ultimatum, Kyler's willing to do what it takes for things to work. But change doesn't happen quickly, and... More...
BLACK SHORE OF THE WHITE CITY
by
Lydia Nyx
Jude Coffin enjoys the finer things in life: an exceptional wine, a good whiskey, non-menthol cigarettes, and a cute guy with a great ass. Despite being a Siren, or an 'aural captivator' for the supernaturally correct, he doesn't like paranormal politics, paranormal science, and certainly not paranormal activists. Despite this, Jude and his similarly supernaturally-endowed twin brother Jason are lured to Chicago to undergo study at the controversial Institute of Supernatural Research. Jude remembers why he stays away from the paranormal world when the Institute takes his brother hostage... More...
BLACKENED: TURNED SERIES, BOOK 3 by Christina J. Loren
When it comes to life as a vampire, Damien has it all figured out—until his conscience kicks in, and his lover steps out.
BLINDED BY OUR EYES by Clare London
London art dealer Charles Garrett has devoted his life to appreciating and acquiring beauty both in art, and his companions. But his fashionable lifestyle is rocked to the core when he discovers the body of a young artist, Paolo Valero, in a pool of blood in his gallery. Charles discovers a tangled web of motives and murder suspects, some of whom are closer to home than he?d ever imagined. He's drawn to Antony Walker, an aggressive, handsome sculptor with unsavory ties to Paolo. But is Antony the best thing ever to happen to Charles? Or has Charles lost his heart to a killer?
BLOODLINES: KINKAID WOLF PACK, BOOK 1 by Jessica Lee
For an alpha male wolf shifter promised to a female whose goal is to one day be queen, coming out has never been more explosive.
BLUE NOTES, by Shira Anthony
Blame it on jet lag. When Jason Greene finds his future wife in bed with another man, he runs away to Paris, hoping to make peace with his life. But Jason's leave of absence becomes a true journey of the heart when he falls for Jules, a struggling jazz violinist with his own cross to bear. Sooner or later, they'll have to face the music.
BLUE RUIN 1: SOME KIND OF STRANGER by Katrina Strauss
When Derek rescues a drugged, blue-haired waif from a ruthless predator, he's given the opportunity to explore his dark, dominant nature. He molds Blue into the perfect submissive, but is Blue at his mercy or is Derek at Blue's?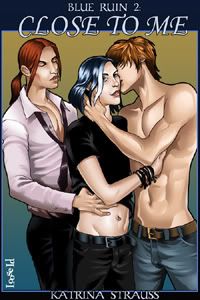 BLUE RUIN 2: CLOSE TO ME by Katrina Strauss
Blue finds pleasure in playing pet to Derek, but is eager to pursue goals outside of their relationship. Derek affords Blue room to grow, trusting love will keep his restless pet in line. Until an old crush returns...
BLUE RUIN 3: CHAINS OF LOVE by Katrina Strauss
When Blue lands himself in the clutches of the Balkan mob, Derek must negotiate his freedom. Dangerous, sexy Sasha offers the couple playtime in his private dungeon during Blue's stay, but there's a catch -- Sasha gets to supervise.
BLUE SKYE by Viki Lyn
After years apart, two childhood friends are reunited - but lives change, people make choices... Will they find a common ground for friendship, will Skye settle for less than love, and will Drew face his greatest fear?
BLUEPRINT FOR LOVE by J.P. Bowie
A chance meeting in the rain on Valentine's Day leads two men on a path of discovery, jealousy and love.
BONDS OF LOVE by Mickie B. Ashling
BONES OF SUMMER, THE by Anne Brooke
BOOK OF WISDOM, THE by JM Cartwright
Catch up with the boys from A Change of Scenery five years on, as they host Stephen's protégé for the summer.
BORN TO BE WILD by Addison Albright
A social fraternity house of pranksters is next door to a house full of GLBT club roomies. Hi-jinx abound. It's a double cross -- or is it a triple cross?
BOTTLED UP by Andrew Grey
BOUNCER, The by A.J. Llewellyn
Kevin Branigan thought he was moving to Austin, Texas for a job. Instead, he got a life.
BRACKETS by AKM Miles
Photojournalist Austin Edmunds is something of a loner, preferring his own company to all of the people his friends try to set him up with. A new assignment in the Smoky Mountains might just change all that, though, when Austin meets big, sexy hunk, Brack Edge. More...
BREAK AND ENTER by Christina J. Loren
When a lone burglar breaks into James' home demanding everything, temperatures soar between both men.
BREAKING FAITH by M. King
When trust, hope and faith break down...a man can lose everything. Brett and Tommy never expected to find each other but, over the course of one unforgettable Northern Montana summer, both their lives are changed for good. Yet, when a person's pushed past breaking point, is love ever enough to rebuild a shattered world?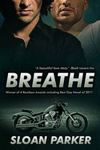 BREATHE by Sloan Parker
Lincoln lost everything after he caused a fatal accident. A year later, still consumed with grief, he gives in to passion with a sexy stranger -- who turns out to be the husband of the woman he accidentally killed.
BRIDGING TIME by Stevie Woods
Will the content of the time capsule from all those years ago explain his fears?
BOUND WITH A BOW (anthology) with stories by Beth Wylde, Lee Benoit, Mychael Black, Sascha Illyvich, and E.M. Lynley
This holiday-themed anthology includes stories from the entire spectrum of GLBT BDSM!
BROADLY BOUND by Beth Wylde, Syd McGinley, DL King, Kathleen Bradean, and Cassandra Gold
Welcome to Broad Horizons: the world's first and only strictly GLBTQ BDSM entertainment facility. It's opening night and the owners, Dani and Maryanne, want to invite you inside for a first hand look at what they've created. With ten themed bondage rooms, a main stage with several smaller performance areas, a second level observatory, two bars and a dance floor, plus a few extra surprises, your pleasures are only as limited as your desires. Tonight's event is invitation only so bring your RSVP, your proof that you're over twenty-one years of age, and your imagination because this evening almost anything goes.

BROKEN by Dawn Kimberly Johnson
BRUSH WITH DESIRE by Chrissy Munder
BUSINESS BEFORE PLEASURE by Chrissy Munder

BUTTERFLY HUNTER, THE by Juiie Bozza - It started as a simple assignment for Aussie bush guide Dave Taylor – escort a lone Englishman in quest of an unknown species of butterfly. However Nicholas Goring is no ordinary tourist, his search is far from straightforward, and it's starting to look as if the butterflies don't want to be found. As Dave teaches Nicholas everything he needs to survive in the Outback he discovers that he too has quite a bit to learn – and that very often the best way to locate something really important is just not to want to find it…
CALL ME SIR by Stormy Glenn
The night Logan James subbed for the bartender at his club, he had no idea the love of his life would walk through the door...
Campus Cravings Series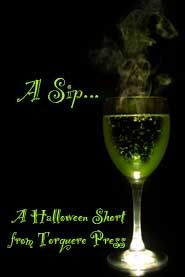 CANDY COURAGE by Angela Benedetti
Some alchemically magical Halloween candy gives Glenn Bellamy the courage to come on to a hot guy he's had his eye on but has been too shy to approach. Will he be able to come through once the candy wears off?
CARDAMOM: A TASTE OF HOME by Winnie Jerome
New freshman Trevor followed his friend with benefits Carter to college. He's not sure if Carter wants to deepen the relationship, and to add the confusion, he's attracted to the gorgeous guy who lives down the hall from him. Sexy and light-hearted, you'll enjoy this coming of age story.
CARDINAL POINTS by Lee Benoit (in BOUND WITH A BOW anthology)
Argus is a master Dom who's lost his sense of purpose. Dori is a spiritual seeker who's never quite found his way. When the two meet at a pagan festival, the heat is undeniable. But how can BDSM amateur Dori and novice pagan Argus chart a new path together if Dori keeps disappearing?
CARNAL CRAVINGS by Keta Diablo
Fate? Surprises? Craven and his friend Anthony discover they're in over their heads the night they're caught spying on Beresford Hall.
CARNAL CONNECTIONS by Berengaria Brown
Ithiel meets Jason and Toby at a wedding, and a night of hot passion follows. But what will happen the next morning?
CARPATHIAN INTRIGUE by John Simpson
Young history scholar Christopher, granted rare permission to study the library of ancient and remote Bran Castle, wastes no time traveling to the Carpathian Mountains of Romania ... But when he discovers a set of scrolls and a journal detailing an event in the castle dungeon's history, he finds that his lover may not be who he seems.
The Catalyst, by Laura Antoniou.
A collection of passionate erotic tales and thought-provoking essays by America's premier sexual storyteller, Laura Antoniou. Steamy scenarios coupled with insightful reflections on the practice of BDSM in our culture make this a must-have anthology that will stimulate both the intellect and the senses.
Cattle Valley Series
CATCHING CHRISTMAS by LEE BENOIT
Over a holiday meal at a soup kitchen, ingenuous, homeless Petey meets the mysterious Woody, who expresses a surprising interest in Petey. Is Petey in over his head -- again -- or will the two wanderers find in each other a home for the holidays? Follow-up to Catching Out.
CHANGE OF HEART by Mary Calmes
A CHANGE OF SCENERY by JM Cartwright
Conway Danvers is tired of a life twisted and constrained by the politics of working in Chicago. He chucks it all and heads to a small city in West Virginia, where this Yankee is in for a rude awakening - professionally and personally.
A CHANGE OF TUNE by JM Cartwright
Meet Johnny Rayne, who walks away from ten years at the top of the rock music industry - only to meet Sheriff Virgil Grissom in rural West Virginia. The closeted Johnny meets the macho sheriff - and sparks fly.
Charity Starts at Home by Zahra Owens
During the Christmas holidays, the affluent Haden knocks on the door of Quinn's homeless shelter with a proposition: he wants to help make Christmas a little brighter for the shelter's residents. But Quinn is suspicious of Haden's motives and money. The fact that their worlds are miles apart is painfully clear, and although Quinn finds he just might be able to love Haden, his own prejudices might block the way to a future together.
CHARLIE CHUCKLES by Clare London
Sensible Tobias doesn't believe in ghosts, possession, fate or even happy ever after. Past experience and a cheating boyfriend have taught him so. But all that changes after he has the Monday morning from hell and bumps into his new neighbor Flynn and his dog, Charlie, in the hallway. After all, it?s not every day one hears a dog chuckle.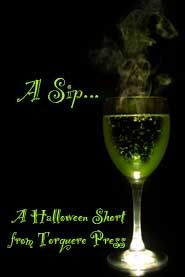 CHASING FEAR by Angela Benedetti
Emilio loves his Greenman partner Martín with everything he has, but he's still scared to go out and be openly gay, especially with the way his family reacted to the news. Martín just wants to go out and have a good time, so he pushes Emilio's limits to the breaking point.
CHAT LINE by Clare London (in Sindustry Vol#1)
Jerry needs help at home and so he rings a number in the local newspaper. But when he gets Sean on the other end of the line, neither of them realizes initially what kind of help they're talking about -- with surprising results!
CHAUFFEUR, THE (Workplace Encounters, #2) by Serena Yates
Physically scarred ex-model Kyle Anderson leads two lives: he is a chauffeur by day, and an exotic dancer by night. His performance attracts the attention of Nick Giddings, a factory worker visiting the club to forget his worries.
CHEATING DEATH by Annie Alvarez
I had finally gotten comfortable living with my vampire girlfriend. Settled into our new home, we were the happy couple until Kaley, Tamara's sister, came for an unexpected visit. In-laws are always an iffy thing, especially when it's the powerful and respected Hightowers who rule the East Coast. But Kaley crossed the lines with me. Can Tamara stop her sister before irreparable damage is done? Or is our love stronger than the new yearnings Kaley has woken in me?
CHIAROSCURO by Jenna Jones
Jamie Makepeace isn't sure what to do with his work or his love life. Laid off at his job and at odds with his ultra-conservative boyfriend, Micah, he's searching for something to fill the empty spots. When he meets Ben Gallagher, a cake decorator, Jamie knows he's found a friend. Taking a chance, Jamie turns to art for his new career, and Ben becomes his muse. He creates an entire show based on the man who is always there for him. The problem with Ben is that he's been hurt by love in the past, and might not be willing to risk his friendship with Jamie for something more.
CHOICES by Stevie Woods
Best friends since kindergarten, Ben and James are separated after college graduation by their different choices. Ben stays in their small hometown while James heads off to New York with dreams of money and success. Ben works to make his life follow the path he wants, and dreams of the day when James realizes he made a mistake and comes back home. Each man promises to stay in touch, but this falls by the wayside as James' life in the big city takes off, leaving Ben yearning for a dream that gradually fades as the years pass. In New York, James finds that not all dreams are worth the cost of a wrong choice.
CHRISTMAS CATCH by Lex Valentine
Mitchell Caulfield's soul is as wounded as his body once was. The former Air Force pilot, forced to retire after being shot down over Afghanistan suffers from PTSD. Working as a bodyguard to supermodel Riley Forbes, Mitch accompanies the model and his wife home to the ranch for Christmas. There he meets Riley's cousin Grayson, a former rodeo star who now runs Forbes Ranch. Can the magic of Christmas bring two men from diverse backgrounds together? And will they open their hearts to the possibility of love?
CHRISTMAS MISTLETOE by M. Durango
Ben Warren's year is ending on a down note: he dumped his two-timing boyfriend, got laid off from his job, and moved home with his parents. Not sure what to do next, he spends the Christmas season working at his family's Christmas Tree lot, a job he thought he'd left behind years before. When Nick Paine, a former high school track buddy, shows up in search of the perfect tree, Ben thinks it's just another business transaction. Once Nick makes it obvious his interest is more personal, Ben realizes his year might end on a positive note after all.
CINEMA EROTICA, by Laura Antoniou. An explicit and very kinky art film sends a wide assortment of people out into the night with freshly awakened erotic desires! Straight, gay, bi and just open to new experiences, no-holds are barred when lust gets sparked in the darkness of a downtown film house. There's something for everyone in this unnamed movie - and in this sizzling collection of people looking to add something new and veryspicy to their already happy sex lives. (Formerly published as "The Catalyst")
CINNAMON STICK - THE LAST NOEL by Kris Klein
Christmas proves the time for miracles when lovelorn Ryan meets a beautiful, biracial 'Perfect Boy.'

CLIPPINGS by A.J. Mirag
Unfairly arrested and charged with the murder of a police officer, Daniel has been jailed indefinitely until trial. A Brazilian prison is a terrible place to lose his innocence. Daniel would have lost more than that, perhaps even his life, if not for Mephisto, his cellmate. More...
CLOSER (Bay City Paranormal Investigations book 4) by Ally Blue
Dreams don't always come true. But sometimes nightmares do.
Closer than Breathing - A Light Gay Odyssey by Alan Keslian
After a tentative start, Ben and Dale become lovers. As the world around them becomes ever more bizarre and challenging, they remain true to themselves, and to each other. More...

CLOUDS AND RAIN by Zahra Owens
Flynn Tomlinson has drifted for several years, working odd jobs when he needs the money and moving on when he doesn't. He's content with his freestyle life, not tied down, not responsible for anyone but himself. Then he comes across a Help Wanted ad in a post office in Idaho and meets Gable Sutton. Gable can't pay Flynn until he sells his horses, but a serious accident has left him unable to work his ranch alone. Working with horses beats stacking shelves at the supermarket, and so Flynn agrees to Gable's terms. What Flynn doesn't bargain for is being captivated by this gentle, lonely man who captures his heart and moves Flynn to take on an incredible burden: saving Gable's ranch.
CLUE GAME by Chris Quinton - The sequel to BREAKING POINT – Ben and David are in Paris for a pre-commitment pre-honeymoon break. Their friend Barbara has a problem only they can solve, and rubies are involved. Ben has plans of his own – but they owe her too much to turn her down.
COFFEE KISSES by Meg Leigh (Margaret)
CODE SWITCHING by Lee Benoit
When a friend and patient dies of a rare pneumonia, Haven and Tadeo's secure life is thrown into disarray. Attacks -- and support -- emerge from unexpected quarters as Nurse Haven Tucker returns in this story set at the dawn of the AIDS crisis. Sequel to HAVEN.
COLD WINTERS by AKM Miles. When Mason Davenport shows up in Sheriff Cole Winters? Deerville, Kentucky, life in the sleepy rural town changes for everyone. Mason has come looking for Cole, but he didn't come alone. There are four men who followed him from Chicago and they want to kill him before he can tell what he saw.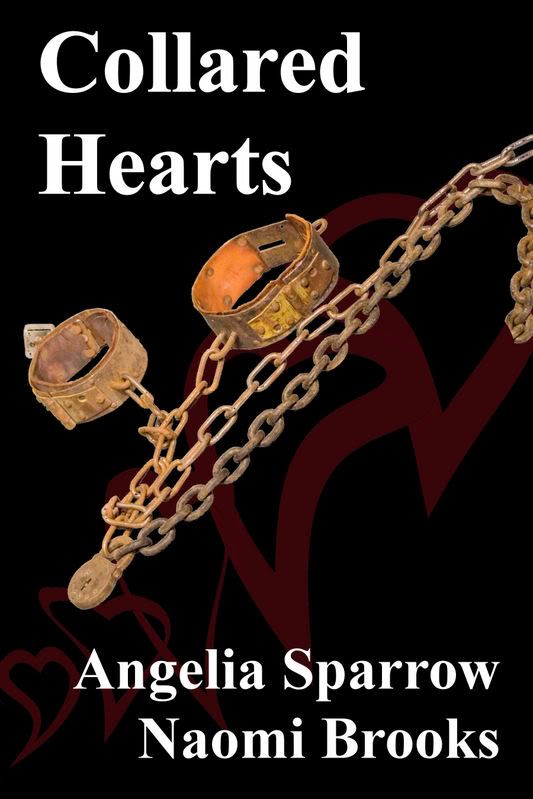 COLLARED HEARTS by Angelia Sparrow and Naomi Brooks.
Collared Hearts gives us Anthony the artist and Josh, the hyper-macho gallery owner. A Valentine gift leads them into places, sexually and personally, that neither expected.
Come and Go by Lee Harlem Robinson
Lee Harlem Robinson is used to getting all the girls, until she arrives in Hong Kong. Faced with a severe shortage of dateable lesbians, it takes Lee months to find romance and surrender to her first summer of love in 100% humidity. Much against Lee's will, her affair with posh banker Stella doesn't last into autumn and she's left scouring happy hour with her perpetually single gay friends again. Lost in the loneliness only the most populated cities can afflict, she's on the brink of a melt-down when she meets Nikki, a leather-clad lawyer-cum-photographer. Can they defy the odds and find love in a harsh and loose city like Hong Kong? Is Nikki enough to make her forget Stella? And what happens when Lucy, Lee's boss from London, flies over to attend to some unfinished business?
A blend of chick lit, romance and lesbian drama set against the backdrop of that other city that never sleeps.
COME TOGETHER by Clare London
Mitch is engrossed in his new book 'Twenty Tips to Hotter Sex'. Will is just engrossed in Mitch. But will Mitch's provocative behavior finally backfire on him?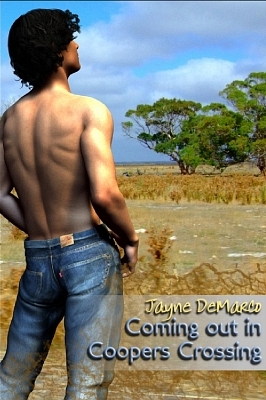 COMING OUT IN COOPERS CROSSING (circa 1970) by Jayne DeMarco
Here's the story of a lad growing up gay in a fly-speck town in rural Aus -- a hilarious, heartwarming tale of indomitable human spirit, and a determination to wrest triumph, romance, out of loneliness. Meet Sam at the time of his first fling with a boy called Joey who's about to leave the tiny town ... meet gorgeous Steve Ryan, who passes through Coopers in a rush of diesel fumes and airbrakes on the truck called 'Stand and Deliver' ... hear whispered tales of the gay bushrangers, Will Fairchild and Ben Garvey, whose story is intimately interwoven with that of Sam and Steve. This one will have you in stitches and leave you wearing a wide smile. More...
CONDOR AND FALCON by by John Simpson
T?he tests of the Presidency are still looming as David Windsor faces both domestic and foreign political challenges. Just doing his job could mean extreme danger for himself and Shane Thompson, the man he loves most in the world -- the man David wants to marry, despite all the press and attention it will bring them and the possible repercussions on a run for re-election.
CONDOR AND THE CROWN by John Simpson
The 5th and final volume of this beloved series. Life is finally settling into a routine when Jack, David and Shane's son, is abducted by Libyan nationals. No longer able to call directly upon US military forces, David turns to his successor as President, Victoria Wilson and enlists her aid and approval for a daring rescue attempt.
CONDOR ONE by by John Simpson
Dark forces gather in response to President Windsor's election, including violent and radical foes in the Middle East. Special Agent Shane Thompson is assigned the President's personal bodyguard, but in time he becomes so much more. The two men find comfort in each other as the President struggles to stay in power and stay alive.
CONNECTION by G.S. Wiley
CONQUEST by S.J. Frost
As the vocally gifted lead singer of his band, Conquest, Jesse Alexander refuses to let anything hold him back from achieving his dream of becoming one of the greatest performers to ever hit a stage. Evan Arden was thought of as a musical genius when at the height of his career, he vanished from the spotlight. Together, their relationship is just as intense as their music careers, but with the pressures of success and fame pushing down on them, Jesse must decide what's more important to him, his life of music, or his life with Evan.
CONVERSATIONS by Stevie Woods
Craig has known John for a long time. They are friends, close friends, but then Craig poses the question that perhaps they are closer than either of them had realized. Deciding to test the theory they got out on a date. After dinner and a trip back to John's place, one thing leads to another, and another. Soon they're swapping fantasies. Which one will they try first?
COPPING A FEEL: GODS OF LOVE, BOOK 2 by Jamieson Wolf
Justin Wright is not lucky in love...
His boyfriend has dumped him. He no longer believes in love at first sight, and he hates Valentine's Day.
CORPORATE BENEFITS by G.S. Wiley
Cover Art by Caroline Stephens
Shy erotic romance writer Ryan Michaels bases all his hero-characters on Nick Driscoll, the model who graces the covers of his books. After meeting Nick in person at a publisher get-together, Ryan is smitten but convinced that Nick would never be interested in him. Fantasy suddenly meets reality when Nick asks Ryan out for coffee. Can Ryan believe something that feels like a scene from one of his books is really happening to him?
COVER ME by LB Gregg - Book 3 in the Men of Smithfield series
Lax. That was the initial conclusion enigmatic security specialist Max Douglas had drawn of Michael "Finn" Finnegan, Dalton Prep's beloved English teacher. When Max arrives at Smithfield's exclusive boarding school to protect a high profile student against a mysterious stalker, he's hell bent on enforcing his style of leadership on students and teachers alike. Warring tempers turn to passionate lovemaking between the former marine and the easy going drama coach. But danger is closer than either man expects and all too quickly violence rocks the homey campus, putting both men at risk.
COWBOY CRUSH by Eve Cassidy
After receiving a Dear John letter, Eli is free to explore his attraction to Vinn. But do you risk a friendship simply to scratch an itch?
COW PIE BINGO by Addison Albright
Evan is just coming to terms with his attraction to men. Will he have the nerve to follow through when Gary flirts with him from his seat in the dunk booth?
CRIMES OF PASSION by Mel Keegan
THE CROSS IN THE CLOSET by Timothy Kurek
In Tim Kurek's courageous memoir, a conservative fundamentalist Christian is inspired to explore life as a gay man and confront his own bigotry. He goes "into the closet" for a year to live as a gay man - beginning with coming out as gay to his own conservative family and friends, and then immersing himself in the world of GLBT social lives, political activism, and private anguish caused by persecution and bigotry.
THE CROSS OF SINS by Geoffrey Knight
Together, Luca, Eden, Shane, Will and Jake are Fathom's Five, traveling the world, solving ancient mysteries, uncovering priceless treasures, and getting into hot, sticky and sexy situations, while thwarting danger at every turn! From Venice to Vienna, from Tuscany to Turkey, from the South Pacific to the seas off Sicily, join in the heroic adventures, hunky sex and hot, high-octane action of THE CROSS OF SINS.
CUTTING CORDS by Mickie B. Ashling
DANCING FOR JONATHAN by Anel Viz
The palpable sexual attraction between Jonathan, a wealthy paraplegic, and Vince, his new live-in aide, is deepening as quickly as their friendship. But both men are trying to keep their feelings in check, keenly aware of the age difference and the imbalance of power in their roles of employer/employee and patient/caregiver. Adding to the strain are the secrets Vince is keeping.
A DANGEROUS MAN by Anne Brooke
DARE TO by AKM Miles
Licensed counselor, Dare Wilson, works with troubled kids, and that's how he meets Ryan Spencer's nephew. The kid is reeling from his mother's death, and Dare wants to help. He wants to help Ryan out, too. Their chemistry is immediate, but Dare knows he cares for Ryan, too. Dare thinks they'll fit right into his quiet life, but he should know better than to think everything will go smoothly. Suddenly, Dare is involved in a violent domestic violence dispute, a life-threatening situation with a client -- more...
DARE'S CHRISTMAS GIFT by AKM Miles
Dare and Ryan are happy living with their son, JC. Their neighbors and friends, Jackie and Brandon, are looking forward to the church party, and life is good. Too bad the boys have said an old enemy is watching them, one who's supposed to be in jail. When the kids are kidnapped right under Santa?s nose, all hell breaks loose. It's awfully cold, the kids don't have their coats, and the parents are losing their minds. Will Dare save the day like he always seemed forced to do in the popular novel Dare To? Or will Christmas be ruined by Dare and their friends losing those they love most.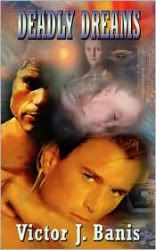 DEADLY DREAMS by Victor J. Banis
Partners in peril. Stanley thinks he's being stalked- but by whom, and why? Tom is determined to protect Stanley - but from what? Or is it really Tom who's being stalked? There are clues, to be sure, but they're like trying to gather bits of mist, like chasing ghosts: words of love, left unsaid; a long ago injustice; a vanished child; a man embittered. Memories, yes, but which of them are real? Or is it all only dreams? Deadly Dreams?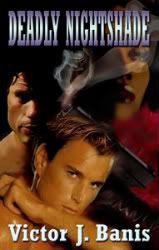 DEADLY NIGHTSHADE by Victor J. Banis
Take one straight cop, one gay cop, and a beautiful drag queen they nickname The Deadly Nightshade, mix them all together and things are quickly sizzling. SFPD homicide detectives Tom Danzel and Stanley Korsky tour the city within the city - the underground world of the cross dresser and the gay clubs, hot in pursuit of a sexy serial killer who starts out blowing her johns and ends up blowing them away.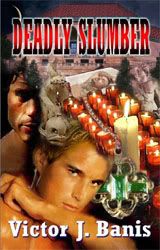 DEADLY SLUMBER by Victor J. Banis
"The House of the Dead." A pseudo-Italian palazzo at the edge of the Castro, Bartholomew's Mortuary had been a bordello at one time in its checkered past, its rooms filled with bodies in lust. Now it is filled with bodies at slumber. But not all the bodies at Bartholomew's are dead, and not all the dead are sleeping peacefully. Called in to investigate, Stanley and Tom follow a torturous path that leads to depravity and death. Coffins, coffins everywhere - and one of them has Stanley's name on it. Deadly Slumber indeed.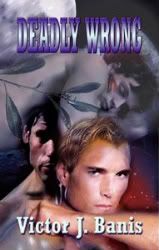 DEADLY WRONG by Victor J. Banis
San Francisco Homicide Inspector Stanley Korski is on administrative leave when an old chum calls. Her brother has been arrested on a manslaughter charge. Could Stanley come to Bear Mountain and investigate? A perfect vacation, expenses paid, with no reminders of his unrequited love for fellow detective Tom Danzel. And, what danger could there be? This wasn't even a murder, just a tragic accident. Wrong, Stanley. Deadly Wrong.
DEAR ALEX by Clare London (in Make Me a Match Vol#1)
Robbie and Alex started the Meant for Men advice column together, as collaborators and lovers. But over time they drifted apart, and the column - and Alex's life - took a harsh, cynical turn. It takes the threat of Robbie leaving the magazine to make Alex realize he could use some advice himself.
DEAR MISTER PRESIDENT by Adam Fitzroy
Colonel Chad Ryan is the new Deputy National Security Advisor at the White House. Everything's going quite well until he comes to the mind-numbing realization that he's fallen in love with his boss - a married man, who also happens to be President of the United States.
DEEP COVER by Clare London
Max is doing all the right things, as is his lovely girlfriend, Elisa. They don't share a grand passion, but they know that they're expected to get married, which would further Max's military career, and secure Elisa's social standing. Max does have one grand passion, though, for fellow soldier, Ryan. Will he live his life the way he wants, or will he and Elisa be forced to do what people expect?
DEEPER BLUE by A.J. Llewellyn
Tracy Costantino accepts the task of tutoring Marjo, a troubled little girl whose father has rented a house in the remote, but picturesque Greek island town of Molivos. But this is no Mediterranean paradise -- someone is trying to abduct Marjo. More...
DEF CON ONE by John Simpson
Air Force Airman Bryce Callahan reports to the missile silo base in Cheyenne, Wyoming, to take up duties with the Base Security Police Squadron. There he meets Sergeant Todd Claymore, his training partner...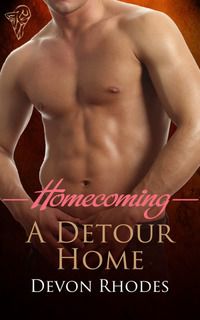 A DETOUR HOME by Devon Rhodes
Jon has held his love for Cameron in check, waiting for his late-blooming friend to grow up. When Jon pushes too far, too fast, Cam balks, and Jon's reaction costs them their friendship. Years later, Cam needs a friend, and Jon returns home to lend his support. Has there been too much water under the bridge, or will they both finally be ready to embrace the love they once lost?
DEUX: THE FRENCH KISS CHRONICLES, BOOK 1 by Em Petrova
After sparks fly between lonely housewife Jane and the bombshell divorcee Margot, a soft spot blossoms, revealing a deeper need—to find love.
DEVON CREAM by Jet Mykles
When Steven helps his neighbor Devon move into the studio apartment upstairs, he can't help but drool. And that's all. Devon is straight and totally off limits. Knowing, though, doesn't stop the desire Steven fights every time the two men are together, which is a lot since Steven has decided to take Devon under his wing until the young man can get his life together.
THE DICKENS WITH LOVE by Josh Lanyon
A quirky holiday romance about Faith, Hope, and -- er -- glow-in-the-dark condoms!
DINNER AND A MOVIE by M. Durango
Jeremy and Brian are best friends and brothers; they're inseparable and have no secrets between them except one. When Jeremy starts avoiding him, Brian has no choice but to push for the truth. Are they so close that they even share the same dark secret they've each kept from the other all these years?
DIPLOMACY by Zahra Owens
Jack Christensen is a rising star in US diplomacy. He's married to the perfect wife and thrilled to receive a new assignment, but then he meets Lucas Carlton, the liaison from the British Embassy. The attraction is mutual, but they both know they'll have to make substantial sacrifices if they want to want to pursue a relationship.
DISCOVERING THE ACTOR (New Horizons, #2) by Serena Yates
Can a former gay pornstar fight prejudice and blackmail to become the theatre actor he wants to be?
DIVAS LAS VEGAS by Rob Rosen
What happens when you find out that Grandma's vase mistakenly sold at a yard sale is worth tens of thousands of dollars and somebody else is about to cash in on it on Antiques Roadshow? Of course, you hop on a plane with your best friend and race off to Las Vegas to get Grandma's vase back! Filled with action and suspense, hunky blackjack dealers, divine drag queens, strange sex, and sex in strange places, plus a Federal agent or two, Divas Las Vegas puts the sin in Sin City. A fun, new take on the murder mystery genre, Rob Rosen's Divas Las Vegas is a hilarious, touching, and compulsively readable page turner!
DOUBLE DELICIOUS by Christiane France
DOUBLE OR NOTHING by Cassandra Gold
DREAM COME TRUE, A by Addison Albright
When Mike's college crush becomes his roommate he thinks his dreams have come true, but can he handle the stress, and potential rejection, of coming out to his family?
DREAMING OF YOU by Addison Albright
When a new enemy startles him with an insightful revelation, will Trevor be able to put aside their differences and give love another chance?
DREAMING OF YOU by Ethan Day
Aden's been in love with the same man for fourteen years. The problem is, that man only exists in his dreams. Then he meets real life hunk Logan and he's torn between two worlds - his perfect fantasy and the flesh and blood reality.
DREAMS by Addison Albright
Dreams is a collection of three consecutively linked stories, each with a different pair of protagonists introduced in the previous story. The original versions of these comprehensively amended and reedited second editions were previously published individually. This volume contains: A Dream Come True, Another Dream, and Dreaming of You.
DRIVE ME HOME by Chrissy Munder
DRIVING ME CRAZY by L.M. Brown
Failing his driving test for the third time isn't so bad for Brandon Walker, not when he's being taught by the sexiest driving instructor in town. If only he could find a way to get Lee out of the front seat and into the back.
DROPPING QUARTERS by Addison Albright
'How they met' might be a story Luke and Cato would just as soon keep to themselves, but when they keep running into each other, they figure it's time to stop dodging fate.
DUKE - BOOK 1: ALPHA RISING, DUKE - BOOK 2: GENEVIEVE'S TALE, DUKE - BOOK 3: TRANSFORMATIONS by scavola The story of Duke, who has the ability to 'change' from human to black German Shepherd, and somewhere in between.
DUTCH'S BOY by Xavier Axelson
Fulfilling your dream isn't easy, especially if you're the son of well-known rodeo rider Dutch Reynolds. Chance encounters, sex and love soon teach the young cowboy life lessons that he will not forget.

A | B | C | D | Page E-K | Page L-R | Page S-Z
KEYWORDS: gay book, gay bookstore, gay fiction, gay literature, gay writers, gay book reviews, m/m, manlove, gay romance
http://bookworld.editme.com/DawnKimberlyJohnson
img src="http://i285.photobucket.com/albums/ll52/charliecochrane/DeadlySlumber.jpg" alt="deadly slumber cover" width="64" height="100" /
a href="Drivemehome" target="_blank"