SEARCH:
SEARCH:
Will sets out to help Takoda and his tribe preserve some of their identity... and ends up finding his own. More...
People confound young, brilliant, college professor Brendon, including his boss. So when Josh, the assistant football coach, pursues him, Brendon isn't sure what to make of him. More...
Sleeping Bears Lie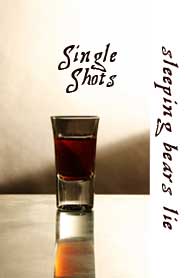 by Alex Draven
Set in Alaska, Sleeping Bears Lie is a story about how lying to keep secrets can screw things up, but then, so can telling the truth. It's about identity, and what it means to know someone, and if you need to know someone's history to love them in the present. It's about a relationship that's not easy, but might be worth it anyway.
When computer guy Dan met Matt a year ago, things seemed to be going really well. They shared the Alaskan winter, getting to know each other better and better, and Dan thought they really had something going. Until spring, when Matt disappeared. A little digging into Matt's past tells Dan that Matt has been lying to him all along, and he's not sure what to do.
Especially when Matt turns up in his life again, apologizing for hurting him. Matt wants another chance, but he knows he can't tell Dan all of his secrets, even when they start to catch up with him. Finally, though, Matt has to share the truth of what he is. Will Dan be able to accept Matt's true nature, or is it time to let sleeping bears lie?
Back in 2005, Torquere published their second anthology of shape shifters, Shifting Too, which contained am earlier version of Sleeping Bears Lie. In 2007 it was shortlisted for the Gaylactic Spectrum Awards, just after the anthology went out of print. Since then the story's been extended - it's now about one-third new material - and has been published as a stand-alone Single Shot.
Sleeping Bears Lie is available in a variety of electronic formats direct from Torquere Press or from various ebook distributors.
Read an extract and see reviews at Sleeping Bears Lie's webpage.
---
KEYWORDS: gay book, gay ebook, gay fiction, queer romance, m/m romance, gay romance, gay erotic romance, gay erotica