SEARCH:
SEARCH:
Will sets out to help Takoda and his tribe preserve some of their identity... and ends up finding his own. More...
People confound young, brilliant, college professor Brendon, including his boss. So when Josh, the assistant football coach, pursues him, Brendon isn't sure what to make of him. More...
Fall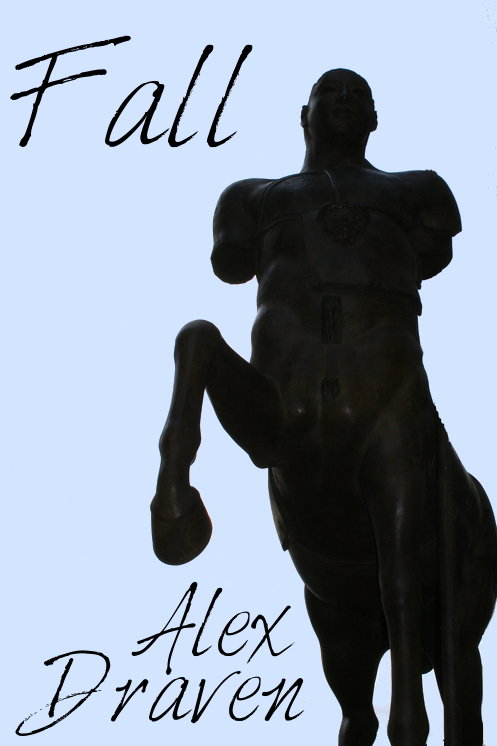 Fall by Alex Draven
Pet thought he'd slammed the door shut on his past, on his dreams, and on the centaur herd that raised him.
Now there's another herd runaway standing on his doorstep; one who won't take no for an answer...
*****
This urban fantasy short story was originally published in Torquere Press' Myths anthology, back in October 2004.
I've recently dusted it off, polished it up, and made it available as a free ebook, in a wide range of formats.
As with any of my stories, I'd love to hear what readers think of Fall.
You can post a review at the Smashwords downloads page, leave me comments on my blog, drop me an email or message me on Twitter.
*****
Nigh on twenty minutes since the knock had rung through the warehouse and he still wasn't quite self-destructive enough to turn his back on a strange stallion standing in his own front drive.
"I said, fuck off. I'm not interested."
The little bastard just stood there, arms crossed, and one hind leg cocked, the very picture of relaxed patience.
It was winding him up. Another few minutes of silence and nothing had changed except his mood.
"Oh for fuck's sake. Stand there as long as you like. I've got things to do."
Pet backed up a couple of paces, shaking his head and whisking his tail, and then snagged the door, pulling it closed.
Fuck.
He let out a kick that left the walls of the warehouse ringing.
Roll on thunder.
Roll on thunder and air conditioning and Cashman's Royals, and a bottle or six of beer.
Roll on forgetting and not having ghosts from your fucking past turn up on in the front yard and look at you, like you owed it to them to live up to whatever fucked-up expectations they had.
---
KEYWORDS: gay book, gay ebook, gay fiction, queer romance, m/m romance, gay romance, gay erotic romance, free gay ebook